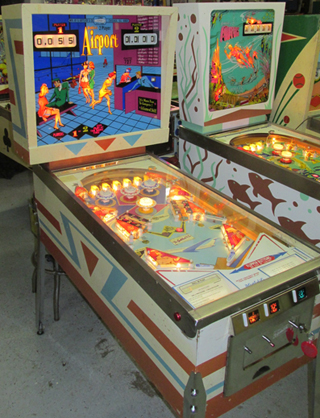 1969 Gottlieb's "Airport" Great 2 Player game first game to use the popular vari-target. The harder you hit it the higher the scores from a measly 10 points to a gratifying 500 points. Mechanical restoration completed May of 2015 it is ready for your game room.
Wonderful collectors condition original art glass cabinet and playfield all in nice original cosmetic condition. Fantastic first machine or a complement to any collection. All new chrome and a ton of new plastic playfield parts and coin door parts installed (May 2015) New play field glass, new legs, bolts, levelers, locks, shooter, pinball, flippers and pop bumpers all new parts.
Produced in April of 1969 and only 1900 made not sure if Gottlieb knew of the Mega movie about to be released 1970's "Airport". Starring Burt Lancaster, Jacqueline Bisset, Dean Martin and George Kennedy the first disaster flick and a $100 million dollar movie. That was a lot of 1970's dollars.
Perfect machine for a pilot stew or anyone in the Airline industry "Airport" features a swank late 1960'sTicket counter with pretty airline employees very busy at Gate 727 it's funny that there is only one lonely customer in the whole airport.
Airport features:
§ 4 New fast Pop Bumpers
§ 2 new Flippers
§ Free Ball lane always open
§ More scoring features increase with each ball
§ Last ball everything is lit
§ Replays for high scores and End of Game Match
Pinrescue has real trouble keeping nicely restored quality vintage pinball machines in stock. Some sell as soon as we list them. This is the first Airport we have restored don't wait another 18 years (That's how long we have been doing only pre 1977 pinball full time) for our next one.
Price $3900 – Sold – Phoenixville, PA
Click to enlarge