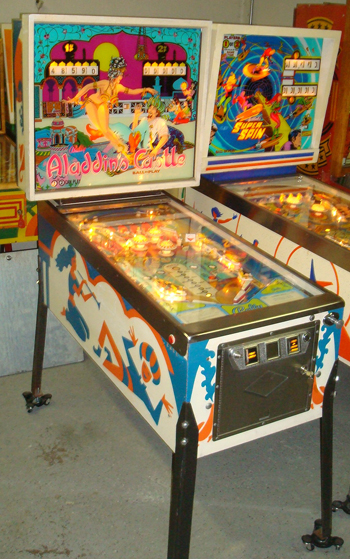 1975 Bally's "Aladdin's Castle" 2 player pinball machine. Politically incorrect but endless fun, super fast playing pinball action from Bally. Many players favorite machine from 1975 the year rock musician Bruce Springsteen releases his album, Born to Run. Great all round cosmetic condition as follows near mint art glass, very good playfield and cabinet. Game play like you remember from the 1970's win extra balls, free games and a over the top buzzer to let everyone in the arcade (now your home) know you rolled the machine over
Fine features found on Aladdin's Castle:
Three strong flippers
Three super fast pop bumpers
Spinner shot to get back to the top of the playfield.
Make A,B,C,D awards extra ball & light rollover stars Aladdin's Alley awards big points then a Special.
Over the Top buzzer for scoring 100,000 points
Fast pinball machine rebuilt for years of fun in your game room. If you have always wanted a classic pinball machine maybe Aladdin's Castle is for you.
Don't wait or it may be a long time before Pinrescue finds, ships in and restores another very good chance it will not be in as nice all round condition as this one.
Local to NYC, Philadelphia and Washington Dc we offer long term service contracts and delivery and set up for a small fee. Not local to us we have safely shipped to over 40 of the 50 states $400 inside insured ready to plug in and play.

Price $2495 Sold Quogue, NY Questions? pinrescue@comcast.net or call 215 354 0906 russ