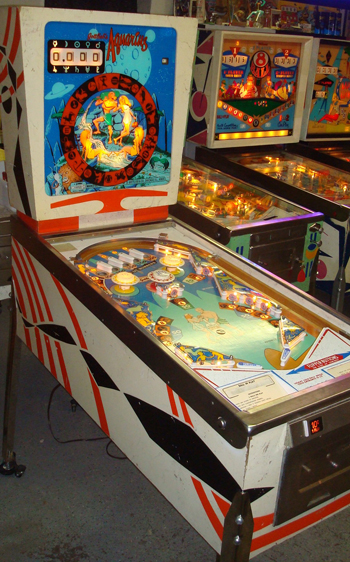 1970 Gottlieb's "Aquarius" single player Zodiac themed pinball machine restored for a long happy life in your home. Beautiful to look at even more fun to play! Aquarius is Gottlieb's first machine to use a chime box which was used there after in every machine they made until 1978 when it was replaced with a sound board. One of the last classic pinball machines with the old school "little flippers". In 1970 AMC introduced the "Gremlin" and you may have been playing Aquarius at your local hangout. No gremlins in this Aquarius everything works as it should rebuilt with all new flipper parts, pop bumpers, posts, rubber, lamps, locks, legs and hardware. Restoration completed March 2011. Muscle cars from this era are bringing 6 figures when done right vintage pinball machines may follow suit.
Follow this link to see a short video of our shop and some other Gottlieb machines we had in the past http://pinrescue.com/games/video/abbra/abra.wmv
Fascinating features found in Aquarius:
Complete all 12 signs of the Zodiac lights traveling Specials.

3 new pop bumpers

5 angled kick out holes make for unpredictable play

New sounds for the 1970's chime box

Ten ways to win Specials plus free games for high scores and end of game match number
Aquarius is in nice all round cosmetic condition for a 41 year old pinball machine.
Major touch ups on the cabinet (nicely done it looks good) great condition playfield and art glass. Pinrescue can restore the cabinet to better then new but is will nearly double the cost and add 8 weeks to the install. Nice retro theme that could work in your game room.
Pinrescue likes the looks, sounds and feel of this classy Aquarius.
Price $2495 (sold Flat Rock NC) questions? pinrescue@comcast.net or 215 354 0906

Click to enlarge