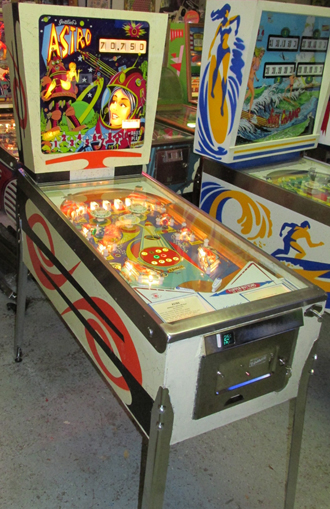 1971 Gottlieb's Astro very rare pinball machine with a production run of 500 machines 46 long years ago. Vintage pinball is becoming super popular and Pinrescue is struggling to keep up with demand. We sell out every Christmas and nearly sold out just last month Oct. 2016 last year we didnít make Black Friday!
This is only the 3rd Astro Pinrescue has had the pleasure of restoring (completed November 2016) in the 15+ years we have been in business doing only pre 1977 vintage pinball full time. Wonderful game play Astro is an add a ball machine made for Wisconsin and New York states that banned replay pinball for some stupid reason. Pinball collectors covet add a ball machines for their rarity and the long playing games as you can win many WOW's (extra balls) and each game can last a long time if you are good. Object of the game is to spell STAR TREK I'm not sure if Gottlieb paid any rights to use that name on the machine but there it is.
Excellent all round condition beautiful original art glass, playfield and cabinet with some light professional touch ups nicely done and brand new chrome legs installed. Pinrescue installed many new parts on Astro and it plays like 1971 all over again. What songs might have you been playing on your 8 track in 1971 when this like new Astro was really new? Carol King plays her first concert in Carnegie Hall, the late Davy Jones leaves the Monkees and Jim Morrison is found dead in Paris at age 27. Don't wait another decade to get that classic pinball machine you have always wanted they all may be gone.
Fun features found on Astro:
3 brand new pop bumpers

8 stand up targets

Spell STAR TREK to win extra balls

Light WOW's to win extra balls

Extra balls for high score
Click this link to see some other Gottlieb pinball machines Pinrescue restored in the pasthttp://pinrescue.com/games/video/abbra/abra.wmv
We have safely shipped all over the USA inside your home fully insured installation runs $500
Price $3750 sold Madison WI Questions pinrescue@comcast.net
Questions pinrescue@comcast.net
Clcik to enlarge