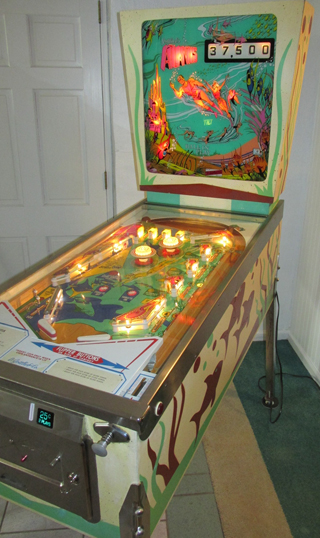 1975 Gottlieb's Fabled "Atlantis" super popular ten drop target game from arguably the best year from Gottlieb for the greatest drop target games ever made. Mechanically restored December 2016 nice original cabinet paint, near perfect original art glass, good original coin door , new coin entries, new legs and a very nice original playfield. One of the most beautiful machines ever made in Pinrescue's opinion.
All new flippers, pop bumpers, drop targets, plastics, posts and slingshot parts, this Atlantis plays like new! (Freshly restored, cleaned and detailed December 2016 (Atlantis is ready for your game room) We have had real trouble keeping any machines in stock before the holidays and this Atlantis will sell fast.
Pinrescue is very proud that one of our earlier (Pinrescue has been doing only pre 1977 pinball full time for over 20 years)
Atlantis restorations made the 2006 Pinball Calendar.
http://pinrescue.com/images/2006_0602Dec0010.JPG
Unusual and Great features on "Atlantis":
Two drop targets down at the same time awards 5,000 points the only machine to ever use that feature

1 thru 9 lights specials

5 different special targets including all the targets down

Replays for high scores

Replays for end of game match.

Bagatelle scoring down the right side of the playfield.
Atlantis could work in any game room and would look great next to an aquarium or in any shore home.
Everyone loves Atlantis and this is a very nice one. If you are going to buy a vintage pinball machine why not buy one in beautifully restored condition. Pinrescue only works on pre 1977 pinball machines like this very nice original "Atlantis" we don't do digital pinball or video games.


As with all of our machines we offer long term service contracts local to Philadelphia Pa. and all of New Jersey. Not local, we have safely shipped all over the country.

Quality restored vintage pinball machines are a fun investment you and your family can enjoy every day. Muscle Cars from this era are bringing 6 figures when done right. Pinball machines may follow suit as the demand is booming (read Baby Boomers) and the supply of good working restored games is limited. Just where did the cool guys drive those Cuda's, Camaro's and Mustang's to back in the 1970's ? Straight to the local 7/11, Soda Shop, mall or bowling alley to play machines like "Atlantis".

Price $4000 sold Scottsville VA
insured inside delivery and set up within the USA runs $500 or local to us (NYC to Washington DC) $250 includes set up and one year service contract. Questions pinrescue@comcast.net
Click to enlarge