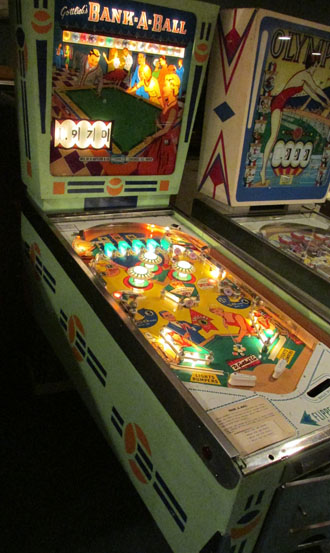 1965 Gottlieb's "Bank a Ball" animated single player pool/billiards themed pinball machine. Pinrescue's favorite game from the 1960's Bank a Ball features drop down pool balls in the backglass plus light animation. When you start the game all the pool balls are lit on the pool table in the art glass. As you make each individual ball it disappears from the table and the actual pool ball drops down into the rack
Freshly restored January 2016 Pinrescue is lucky to have two beautiful examples of this classic game. We have all been hard at work restoring classic Gottlieb pinball machines after selling out before Christmas 2015 ( we actually sold out before Black Friday!)
Animated pinball machines from the mid 1960's are the most collectable machines Gottlieb ever made and Bank a Ball has both light and mechanical animation the only one Gottlieb ever made to have dual animation! One of our Bank a Balls is in beautiful original condition all the way around with light wear to the unique felt green cabinet it has a near mint playfield, near mint original art glass . Very nice original condition!
Our 2nd Bank a Ball is fully restored fresh cabinet paint, new chrome coin door, new coin entry, new shooter, new art glass, new playfield glass, new legs, levelers and hardware. Both are Top Quality Gottlieb pinball machine
Pinrescue polished the silver posts to a glow in the dark shine, replaced all the bulls eye targets with new ones, rebuilt the flippers with all new parts same for the pop bumpers new from top to bottom. Clean as a pinball machine can be inside and out both these beauties play like its 1965 all over again. Bank a Ball also was the first ever pinball machine to have a return to flipper lanes which just about every pinball machine since has copied.
Talking about new for 1965 the Beatle's released the movie H E L P and played Shea stadium, Mary Quant designed the fashion statement of the 60's the Mini Skirt and Goldfinger and Mary Poppins were the big movies. Don't wait another 4+ decades to get that dream pinball machine they all may be gone.
Fabulous features found on Bank a Ball:
Dual light and mechanical animation (pool ball disappear from table and drop in the rack)

Beautiful pool balls match the colors of real pool balls

Return to flipper lanes (first ever in pinball and copied ever since)

Love it or hate it felt green colored cabinet

Make the low balls 1-7 or high balls 9-15 to light the 8 ball

Win Specials for 8 ball and Low and High ball Specials

Win games for high scores

Win games for end of game match number
Click this link to see some other Gottlieb pinball machines in Pinrescue's shophttp://pinrescue.com/games/video/abbra/abra.wmv
Gottlieb pinball machines were made with the finest American made materials, labor and engineering a quality the Germans and Japanese can't touch. Pinrescue has safely shipped to over 40 of the 50 states and can get Bank a Ball installed in your home anywhere in the USA.
Our price includes inside insured shipping in the lower 48 ready to play local to us in the greater NYC to Washington DC area we will include a one year service contract and installation in your home.
Price $4500 for our one with original cabinet paint, (Sold Marietta GA)
Price $6500 for the one with fresh cabinet paint
Sure you can get a brand new pinball machine for that money but it will be "new" and not a near mint 1965 Bank a Ball
questions Russ 215 354 0906 or pinrescue@comcast.net
Click to enlarge