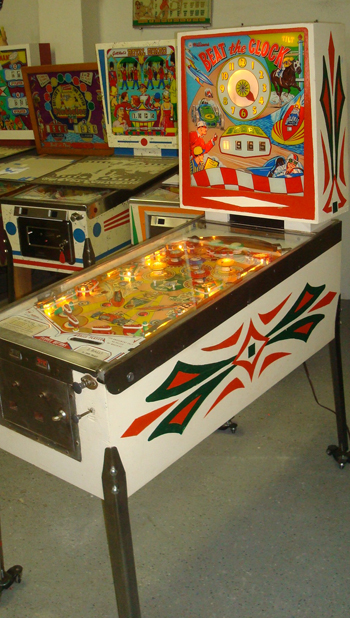 1963 William's "Beat the Clock" Classy vintage pinball machine. Wonderful racing theme could work in your home if you like cars, horses, jets or speedboats. Feature packed machine from William's "Beat the Clock" was the first machine to have a two ball multiball. Nice animated backglass advance the clock to 12:00 (much like William's 1990's smash hit "Funhouse") which lights two kick outs for specials and lights the number 6 on the clock face.
This Beat the Clock would look great next to a Funhouse pinball machine. The clock advances as long as you keep two balls in play if you make it to 6:00 it awards a replay. Freshly rebuilt mechanically Feb 2011 and ready for your gameroom. These 1960's vintage pinball machines were made in America (Chicago) by American designers
craftsmen and artists of the finest materials quality the Germans, Japanese and Chinese can't touch.
Some movies you might remember from 1963 when this nice Beat the Clock was "new" "From Russia with Love" , "Cleopatra" and "It's a Mad, Mad, Mad, Mad World" don't wait another 40 years for a vintage pinball machine they may all be gone.
Great pinball fun! Innovative features found on the 1963:
Five pop bumpers
4 rebuilt flippers
Animated backglass (clock moves as you play)
Star hole traps the ball
Center rollover or two kick out hole release the ball
Keep both balls from draining to advance the clock
Light A,B,C,D for center lane Special End of game match feature
Beautiful condition art glass very good playfield and ok looking cabinet painted over to match the original (not a professional repaint but it looks ok). Very cool pinball fun now in your home for playing every day.
Price $3,000 (sold Salina KS) includes safe insured shipping in the USA questions? pinrescue@comcast.net 215 354 0906

Click to enlarge