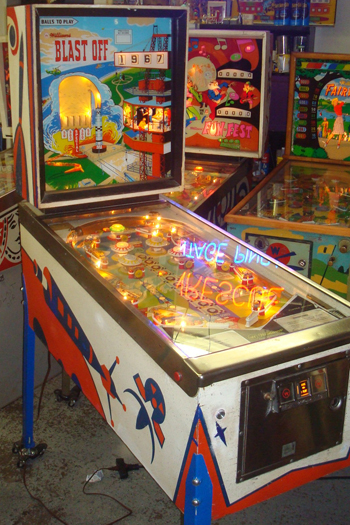 1967 William's "Blast Off" Rocket into the excitement of the 1960's space race with this restored single player add a ball pinball machine. Cool animation features a bagatelle in the nice condition original art/back glass. Neat rocket ships and satellites on the ok shape original cabinet that has some well done touch ups and looks good. Excellent condition original playfield rebuilt with all new flippers, pop bumpers, rubber, lamps, clean as can be inside and out fresh restoration just completed end of August 2011.
Truly fun to play, count down the rollover buttons to launch the Apollo rocket in the art glass. Hit the target to open the free ball gate and advance all the target values. Light the Specials to win tons of free balls. Great 1960's pinball sounds and features in a hard to find vintage pinball machine. This is the only Blast Off Pinrescue has had the pleasure of restoring and we have been doing only pre 1977 pinball for over 15 years full time.
Things you might remember from 1967 when this nice Blast Off was new. The Beatles were number 1, "A Fist Full of Dollars" was at the movies, Elvis and Pricilla get married and the testing starts on the Apollo's incredible Saturn V rockets.
American made when that phrase meant something these William's pinball machines have the quality that the German's and the Chinese can't touch. American's put a man on the moon and invented Silly Putty tough to top that.
This nice 1967 Blast Off is available for our low cost local to Philadelphia and New Jersey delivery, set up and service contract. Just shopped out (end of August 2011) and ready for your game room. These 1960's vintage pinball machines sell as fast as we can restore them. Stop by our store any weekend in the Golden Nugget Market in Lambertville antique capitol of New Jersey. All of our machines are on free play. Not local to us?
Pinrescue can safely ship this machine inside, insured ready to play "White Glove" installation just about anywhere in the USA $400
Price $2995 (sold Lompoc CA) questions Russ 215 354 0906 or pinrescue@comcast.net
Click to enlarge