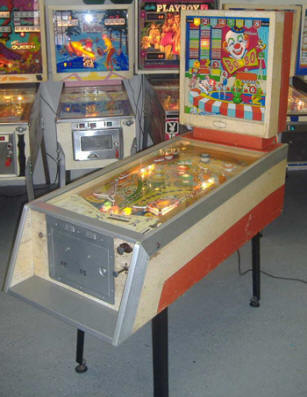 1961 William's "Bo Bo" Rare cocktail cabinet Circus themed pinball machine.
Styling of the 60's now you have a place for your drink while you play. Only 400 Bo Bo's were made in 1961 and this cabinet style soon lost favor as the standard pinball dolly vendors used to move them didn't work with this cabinet. Good all round original condition cabinet with new custom legs that better support this strange cabinet, excellent backglass and playfield with few issues. Plays great for a 45 year old pinball machine and one of the rarest pinball machines ever from William's.
Some nice features on Bo Bo include two count down bonuses with up to triple bonus. Specials for completing 1 thru 6 and raise the bonus to 100,000 in yellow or green. Bo bo's nose flashes only during countdown bonus and at game start up. Strong flipper and pop bumper action from a 1961 pinball with love it or hate it styling and a nice family theme.
Price sold Craig's retro gameroom in Piqua, OH
Questions pinrescue@comcast.net