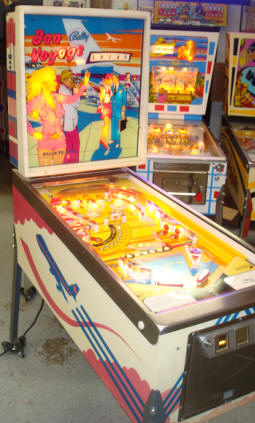 1974 Bally's "Bon Voyage" Collectors condition rare single player from Bally 35 years young and looks and plays like new. Bright perfect backglass, clean near mint cabinet and super near mint playfield "Bon Voyage" is a winner. Pinrescue just completed the restoration (May 2010). During 1974 the year this gorgeous "Bon Voyage" was made "Happy Days" first episode aired on TV.

Features a messenger ball to win the special, kickout saucer, a spinner, two pop bumpers, an always open return to shooter lane, spell BONVOYAGE to light the special and can be set to add free balls for extra long play in your home. Popular 100,000 scoring for over the top pinball fun, freshly restored for a long happy life in your home perfect for the pilot or aviation fan.

Bon Voyage has super art work on the backglass with Boeing 747's and great looking girls and guys getting ready to travel the world.

Don't wait or "Bon Voyage" will be on it's way to someone else's home. Pinrescue has safely shipped all over the world. Inside "white glove" delivery, ready to play runs $400 in the USA.

$3295 (sold Newfield NJ) Top quality has it's price.
Any questions pinrescue@comcast.net 215 493 266
Click to enlarge