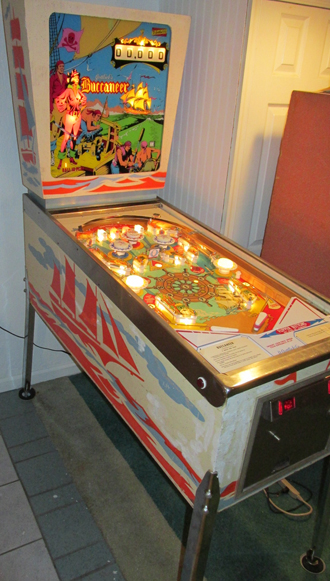 1976 Gottlieb's "Buccaneer" Pirate themed pinball machine. One of the best from 1976 still in great condition 41 years later. Perfect pinball machine for that Beach, Shore or Lake house. Pinrescue is lucky to have found a nice original condition machine to start with before replacing the flippers, pop bumpers, posts, rubber, lamps, legs, levelers, locks, shooter, spinner and playfield glass all brand new parts! Playing Buccaneer is so much more fun than money in the bank. This is one of the last of the single players (no printed circuit boards to fail) from the premier manufacture of this style pinball machine Gottlieb.
Nice original cosmetic condition as follows:
Near perfect original playfield super nice

Near perfect art/back glass

Ok looking original cabinet with some major touch ups on the "port" side "starboard" side is nice original condition
Pinrescue doesn't bother putting our heroic and time consuming effort into restoring machines with worn out playfields, water damaged cabinets and worse. Buccaneer is a super popular game for the pinball player, Pirate or Buccaneer fan or the sailing enthusiasts.

Wonderful artwork on "Buccaneer" it could work in any game room perfect complement to Stern's 2006 Pirates of the Caribbean pinball machine. The year Buccaneer was manufactured 1976 Ike & Tina Turner split up, good chance you'll never part with this very nice Buccaneer rebuilt for a long happy life in your game room.

Captivating features found on Buccaneer:
Spinner (Brand New) spins the ships wheel to spot numbers Complete Wheel lights Specials

3 Rebuilt fast acting pop bumpers

Lots of rollover lanes to award numbers 100,000 scoring for over the top fun

Replays for high scores and end of game match
We have safely shipped all over the USA and proudly offer long term service contracts local to us in the greater NYC to Washington DC areas.
Safe fully insured inside your home shipping runs $500 just about anywhere in the USA less if you are local from NYC to Washington DC. Free delivery and one year service anywhere along the Jersey Shore. Bring back pre Sandy memories for your family and friends.

Price $3,000 sold New London NH Questions? pinrescue@comcast.net or call 215 354 0906 Russ or Stacy