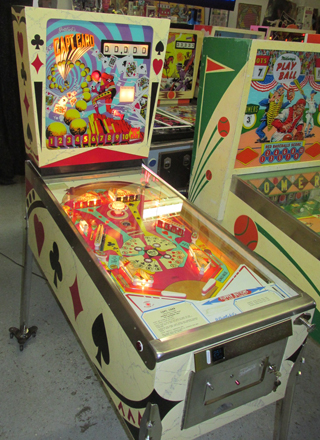 1974 Gottlieb's "Capt Card " Popular and rare add a ball version of Gottliebís super drop target game High Hand. Desirable "Card themed" pinball machine with 16 drop targets in mechanically restored condition. Restoration completed mid April 2015, The most drop targets (16 drop targets) on any big flipper game to challenge your pinball skill. Super difficult hole shot for Wows and bonus. The favorite pinball machine of many players. Super high rated pinball machine. A perfect complement if you have a Royal Flush, Jacks Open, Drop a Card, Top Card, Joker Poker or any of the Gottlieb "Card themed" pinball machines. Both these "Capt Card" machines play the same as when they were new. One looks nearly new with new coin door, coin entry, side rails, legs, furniture quality repaint and all new hardware. We at Pinrescue are lucky to have a 2nd capt card in a nice looking original cabinet nice playfield and good art glass. If we donít restore the cabinet it will be $3500 plus shipping. Both are ready to ship April 2015.
Pinrescue likes Capt Card and listed are just some of the new parts installed on both these fine examples (restoration on both completed April 2015):
New playfield glass

nice playfield with a brand new star rollover, new lane guides and all new posts.

New pop bumper and brand new flippers

100% new lamps, rubber, cabinet switches, new locks, new levelers and bolts.
Pinrescue has real trouble getting quality Gottlieb drop target games on our webpage most sell before we get to list them. These are the first Capt Cards we have been able to get listed on our webpage we have been doing only vintage pinball full time for nearly 2 decades and both of these will sell fast.
Nice original art glasses, playfields and your choice of a furniture grade cabinet or good original cabinet . Clean as can be inside and out see our clear pictures below.
The year before Capt Card rolled out of the Gottlieb factory 1973, Doyle Brunson finished 11th place and Thomas "Amarillo Slim" Preston finished 12th in the World Series of Poker. Interesting to note that only 13 players ponyed up the $10,000 entrance fee and the eventual winner Walter "Puggy" Pearson won $130,000 winner take all. Second place won zero dollars.
Quality restored vintage pinball machines are a fun investment you and your family can enjoy every day. Muscle Cars from this era are bringing 6 figures when done right. Pinball machines may follow suit as the demand is booming (read Baby Boomers) and the supply of good working restored games is limited. Just where did the cool guys drive those Corvette's, Camaro's and Mustang's to back in 1970's? Straight to the local 7/11, Soda Shop, mall or bowling alley to play "Capt Card".
Local long term service contacts NYC to Washington DC
Price $3500 sold Verona NY with original good looking cabinet or $5,500 with beautifully restored cabinet
Questions? pinrescue@comcast.net or call russ 215 354 0906
Click to enlarge