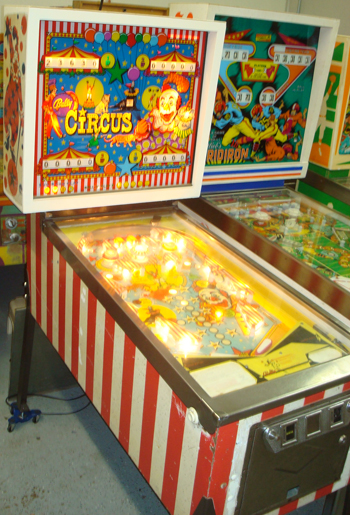 1974 Bally's "Circus" four player fun for the whole family. Reliable Bally pinball rebuilt with brand new flippers, pop bumpers, posts, lamps , rubber and clean as can be inside and out. Average condition cabinet, very nice backglass and playfield tuned for fast classic pinball action.

Lots of nice Bally features including:
Captive "thumper bumper"
Bonus up to 19,000 doubled on third and fifth ball
Two Specials for free games
Win Extra balls for extra long play at home
Over the top 100,000 scoring for each player
End of game match number for free game
One of our lowest priced machines because the cabinet is in only average cosmetic condition it is solid as a rock and has no damage other then some light scrapes and scuffs.
Pinrescue can restore the cabinet but it would add 6 weeks to the delivery and nearly double the price.
The year this nice "Circus" was new, 1974 the Dow Jones Industrial average ended the year at 616! Don't wait another 35 years for a vintage pinball machine they may all be gone. Don't wait or "Circus" will be on it's way to someone else's home. Pinrescue has safely shipped all over the world. Inside "white glove" delivery, ready to play runs $400 in the USA.
Price $1995 (sold Pensacola Fl) questions? Russ 215 354 0906 or pinrescue@comcast.net