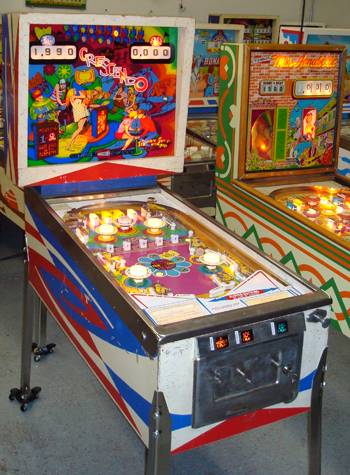 Pinball Machines for sale

1970 Gottlieb's "Crescendo" rare two player. Historically significant as Gottlieb's first pinball machine with the popular ever after Drop Targets feature. Rare as only 1,175 were made way back in 1970. Investment Quality pinball machine. One of the last pinball machines to use the "little" 2" flippers.

Hippie girls and hipster boys from the flower power days backglass shows a coffee house scene with a 4 piece band. Kids are sharing a 7 UP!
Challenging to play as the value of the flower drop targets range from 10 points to 500 points.

Outstanding restored condition plays same as new. Call or email us to stop by and play this classic that had a production run of less then 25% of the typical pinball machine from the 70's.

Warrantee and long term service contract local to us not local phone/email support.
Pinball machines are no fun at all if they don't work!

Price $2495 sold to Menlo Park, CA.
questions? 215 354 0906 Russ