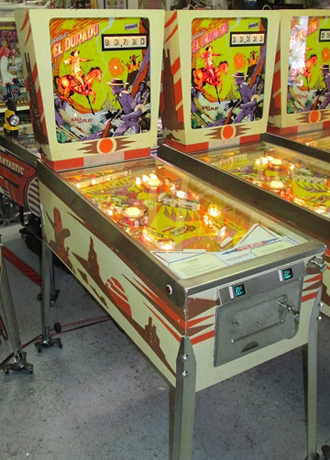 1975 Gottlieb's "Legendary" El Dorado
El Dorado is the best drop target game Gottlieb ever made. This original 1975 El Dorado has been completely mechanically restored (February 2016) and plays like a dream come true. Pinrescue had the unique opportunity to have 6 El Dorado's in our shop January of 2016. This average cosmetic condition original 1975 El Dorado is the 2nd one we have been able to list on our webpage since 2014! It will sell fast.
El Dorado was such a popular machine that Gottlieb made many different versions like 1975 Gold Strike, 1977 Solar City and Target Alpha came back again in 1984 with the digital El Dorado city of Gold! None lived up to this the original 1975 "El Dorado".
Some of the top TV shows in 1975 were M*A*S*H, Welcome Back Kotter, Happy Days and The Six Million Dollar Man don't wait another 40 years for a vintage pinball machine they may all be gone. El Dorado's in general were played hard and often back in 1975 to find one in any condition is rare 41 years later.
Pinrescue can restore the cabinet and chrome and make it look like it is 1975 all over again for an additional $2500 but it will take 10 weeks. See this link for more info on our cabinet restorations: El Dorado Restoration http://pinrescue.com/el_dorado_restoration.html
This El Dorado has 15 New drop targets, New Flippers (all 4), New Plastics, New Coin Entry, Shooter, Cabinet buttons New playfield glass, New Legs, New Locks and hardware. Average condition cabinet with some graffiti average playfield and art glass. Plays perfectly rebuilt February 2016 with lots of new playfield parts.
After Pinrescue installed all the new parts, we can proudly say this 1975 El Dorado really plays like new. See our video below.
Features:
15 beautiful new drop targets

Two brand new pop bumpers

Four rebuilt flippers (nice mix of little and big flippers)

Make all the drop targets and they reset and light the Specials

Move the spot to make all ten cactus top drop targets Specials.

End of game match
Quality restored vintage pinball machines are a fun investment you and your family can enjoy every day. Muscle Cars from this era are bringing 6 figures when done right. Pinball machines may follow suit as the demand is booming (read Baby Boomers) and the supply of good working games is limited. Just here did the cool guys drive those Cuda's, Camaro's and Mustangs to back in 1970's? Many times to the local pinball hang out to play their favorite real pinball machine.
El Dorado had a production run of 2,875 machines in 1975 you would be hard pressed to find a nicer playing El Dorado anywhere. Pinrescue's and many others absolute favorite pinball machine we have restored over 3 dozen Eldo's over the years. Restored the way you would do it if you had the time, ability and the parts to do it right (restoration just completed February 2016).
This is a super popular game it will sell fast. To view a short video of our shop click here To see a short video of the last Abracadabra we rescued click here to see some other fine Gottlieb machines.
Like all of our pinball machines for sale we offer a low cost annual service contract local to Washington DC, Philadelphia and New York City. If not local, email or phone support is provided forever. Visit our store in the Golden Nugget in Lambertville, N.J. all of our machines are on free play.
Price $4,000 Sold Camarillo CA shipping inside your home included.
Any questions pinrescue@comcast.net 215 354 0906