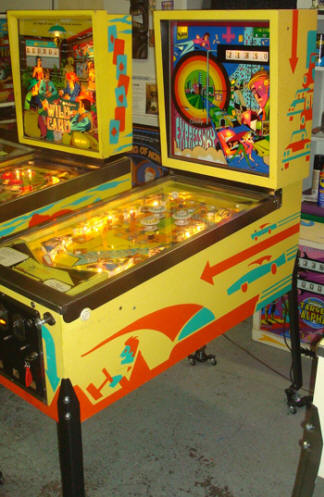 1971 Bally "Expressway" near mint condition single player pinball machine freshly restored (Nov 2011) and ready for your game room. Wonderful art work on Expressway with 1950's style cars on the fantastic condition original cabinet and art glass. Near mint condition playfield with brand new flippers and pop bumpers. Prices of different items in 1971 when this like new Expressway was "new" postage stamps 8 cents, a new Datsun 1200 sports coupe $1866, average monthly rent $150 at the end of 1971 the Dow Jones was at a whopping 890. Don't wait another 40 years to get that vintage pinball machine you always wanted they all may be gone.
Great game play:
Spell E X P R E S S W A Y to light the two specials to win many free games in your home.
Pop up ball saver between the flippers
Two out holes to collect the bonus or raise the ball saver post
Up kicker sends the ball over to the kick out hole
6 mushroom bumpers
5 stand up targets
Win free games for scores, specials and end of game match
Quality restored pinball machines are a fun investment you and your family can enjoy everyday. This 1971 Bally Expressway is in collectors condition just the way Pinrescue likes to find them before doing our 30+ hour mechanical rebuild.
This 40 year old pinball machine looks 40 days old reliable vintage pinball fun. For a short video of our shop click here to see some other fine pinball machines we sold in the past.

Our price includes inside your home fully insured shipping and installation anywhere in the lower 48 states ready to plug in and play.
Price $3750 (sold Lexington MA) Questions? Questions: pinrescue@comcast.net or call russ 215 354 0906
Click to enlarge