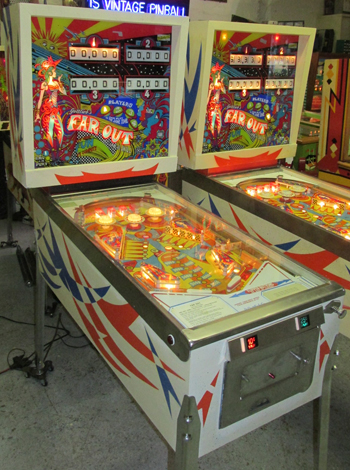 1974 Gottlieb's "Far Out" Super popular 10 drop target game. Turn back the clock to 1974 with this up tight 4 player machine from the premier manufacture of electromechanical pinball machines. Peter Max type art work, a rare 4 player version of Gottlieb's 2 player "Out of Sight". Freshly restored (End of January 2017 yes Pinrescue has 2 of them) with all new: posts, rubber, lamps, playfield glass, legs, bolts, levelers, locks, drop targets, pop bumpers, flippers, cabinet switches coin entries and more……Pinrescue has real trouble keeping up with the demand for quality Gottlieb drop target pinball machines from the mid 1970's. We just can't keep any in stock, most sell before we get a chance to list them. Good all round cosmetic condition nice playfield, great art glass tuned to play like 1974 all over again.
Funky features on "Far Out":
Fast and snappy game play 10 drop targets for your skill shot pleasure.

Three rebuilt pop bumpers for fast upper playfield action.

Return to shooter gate and a left drain kickback gate makes for long playing games.

Popular end of ball countdown bonus awards up to 30,000 points.

Win Specials

End of game match number
Far Out has wonderful artwork that could work in your game room. Good art glass beautiful playfield and original cabinet with some major touch up very nicely done it looks good. Far Out would make a good first pinball for your family room. Thinking back to 1974 when this Far Out was brand new Jimmy Connors and Chris Evert both won at Wimbledon that year and dated but never married. If you have always wanted a classic pinball machine don't wait another decade or two they may all be gone. Just rebuilt end of January 2017 it is ready to play.
Local long term service contract and parts email/phone support if not local to us in the NYC to Washington DC area. (shipping runs $500 to just about anywhere in the USA)
Price $3250 questions Pinrescue@comcast.net or call 215 354 0906
Click to enlarge