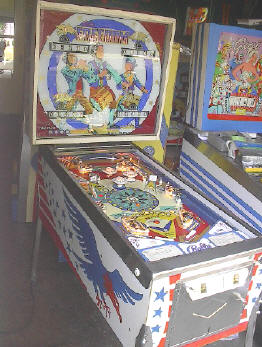 1976 Bally's "Freedom" Great 4 player with drop targets 2 spinners 2 kickout holes and 3 red white and blue pop bumpers.
Extra Balls, Specials and a over the top buzzer for 100,000 scoring Pinrescue loves "Freedom" the All American theme with George Washington and Uncle Sam on the playfield the great cabinet artwork.
All the major pinball manufactures did a patriotic themed pinball machine around 1976, Gottlieb did a great one "Spirit of 76"; and William's "Liberty Bell" Bally's answer was "Freedom". Pinrescue is very proud that we have all three available for sale right now as of October 2004 that won't last long. Our "Spirit of 76" will be listed here within a week http://www.pinrescue.com/games/spirit76.html the link to our "Liberty Bell" http://www.pinrescue.com/games/liberty_bell.html all three from the Bicentennial year 1976.
Freedom is in well above average condition for a 28 year old pinball machine back glass playfield and cabinet have minor issues and all look very good.
Gameplay is fast and strong freedom is super clean. This is one of the last real pinball machine from Bally before they went digital in1977. We like the games layout even better then the super popular "Capt Fantastic" that we can't seem to keep in stock
We have safely shipped all over the USA and proudly offer long term service contracts local to us in the greater Philadelphia area.

Price $1795