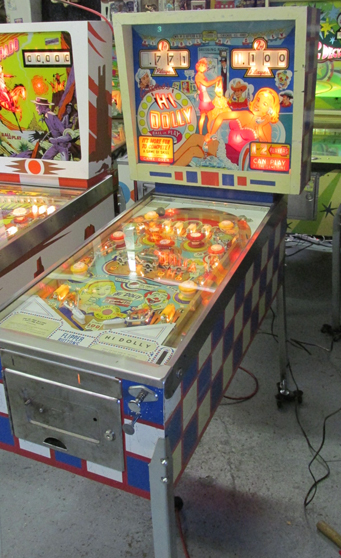 1965 Gottlieb's "Hi Dolly" two player pinball fun with many of the Gottlieb family of characters on the phone calling Dolly!
In 1964 Hello Dolly won a record 10 Tony awards including best musical hence Gottlieb's tribute "Hi Dolly" the following year.
Nice old school roto target game in good cosmetic condition as follows: Excellent original art glass very nice original playfield ok looking mostly original cabinet with some light well done touch ups. Freshly rebuilt mechanically February 2014 and ready for your game room. Nice that Roy Parker honored some earlier games on the back glass and playfield Egg Head, Ship Mates, Falstaff, Gaucho, Texan and Happy Clown are all on the phone with Dolly very cute machine.
Fun game play where you make ABCD to increase the Roto Values 10x and then 100X the roto value. Hi Dolly also features a Star on the Roto Target that awards and extra ball for longer games in your home.
Pinrescue restored the playfield with older art deco bumper caps (Feb. 2014) but will ship with the original caps included in the coin box.
"Hi Dolly" has to be one of the very first " themed " pinball machines based on the 10 Tony winning Broadway play Hello Dolly five long years before Barbara Streisand did the movie!
One of Pinrescue lower priced machines because of the only average condition cabinet.
shipping runs $450 inside your home insured ready to play less if you live anywhere from NYC to Washington DC.
Price $2495 sold Philadelphia PA questions ? Pinrescue@comcast.net or call us at 215 354 0906
Click to enlarge