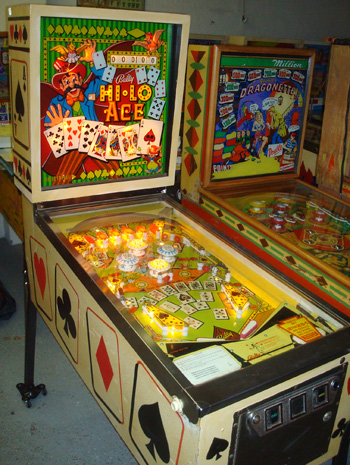 1973 Bally's "Hi Lo Ace" kind of rare single player, very popular "Card Themed pinball" from PinRescue. Super fast Bally pinball action on this freshly restored classic. Mechanically rebuilt and it plays as fast as a new
pinball machine. Very good cosmetic condition playfield with little wear. Mint condition colorful family friendly art glass. Sadly the cabinet has major touch ups and just looks ok. Pinrescue can restore the cabinet paint
but it would nearly double the selling price.
Nice features found on this 35 year old Bally:
4 ultra fast rebuilt pop bumpers
2 snappy rebuilt flippers
4 specials
Can be set for extra balls or replays
Light Ace thru 7 for specials
Light 8 thru Ace for specials
Light all the cards lights 4 specials.
5 Balls per game to try to make all the cards
End of game match
100,000 scoring for over the top fun!
Quality restored vintage pinball machines are a fun investment you and your family can enjoy everyday. Muscle Cars from this era are bringing 6 figures
when done right. Pinball machines may follow suit as the demand is booming (read Baby Boomers) and the supply of good working restored games is limited. Just where did the cool guys drive those Cuda's, Camaro's and Mustang's to back in the 1970's? Straight to the local 7/11, Soda Shop, mall or bowling alley to play machines like "Hi Lo Aces"
Cool fun 1970's pinball machine ready for your game room. When Hi Lo Ace was in the arcades, boardwalks and bowling alleys in 1973 you may have heard "Bad Bad Leroy Brown" or "Crocodile Rock" on the radio while you were
playing pinball. They were in the top ten in 1973.
One of our lower priced machines because of the so-so cabinet touch ups.
Price $2,195 (sold Eagles Mere Pa)
Questions? pinrescue@comcast.net 215 354 0906
Click to enlarge