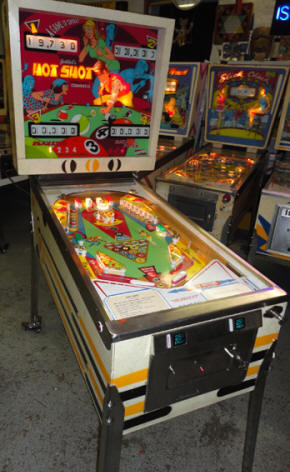 1973 Gottlieb's 4 player pool themed "Hot Shot" The best seller from 1973 it is a great pinball machine, real fun for four players. During 1973 while playing pinball machines like this really nice "Hot Shot" you may have been listing to music from some new groups on the jukebox. Bad Company, Bachman Turner Overdrive , KC and the Sunshine Band and KISS all formed in 1973! Classy billiards themed drop target game from Gottlieb who made such winners starting with 1935 Kelly Pool Senior, 1941 Spot Pool, 1958 Roto Pool, 1950 and 1965 Bank a Ball 1969 Target Pool and 3 years after Hot Shot, 1976 Sure Shot. Perfect for the family room with a pool table in it. This "Hot Shot" has an outstanding mint original backglass with vivid colors, super nice playfield and cabinet. Freshly restore by Pinrescue (February 2012) and is ready for your game room. Plays like new and looks like it is 4 weeks old not the nearly 4 decades old it really is just a beautiful original pinball machine!

Great game play:
Make solids or stripes and the 8 ball to light specials
Bonus of 1,000 points for each ball made
Bonus is double on 4th ball triple on 5th ball up to 45,000 on last ball if you made all 15 balls
Ball return gate for long play at home
End of game match
Many people know this machine from the new Gottlieb Classics computer game that features Hot Shot on the games cover. Well now you can enjoy the real thing in your game room. We at Pinrescue only work on the classy pre 1978 pinball machines like Hot Shot this is our only business we don't do video games or digital pinball we love what we do and it shows in our work .For a short video of our shop click here to see some other fine Gottlieb machines we restored earlier.
Great fun super popular "Hot Shot" Dad get a game in your house that you can actually beat the kids playing. Inside insured shipping runs $400

Price: $3500 Miramar, FL Any questions pinrescue@comcast.net 215 493 266