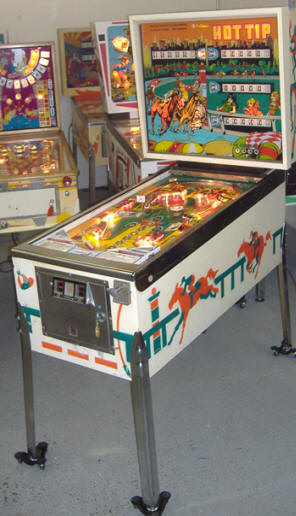 1977 William's "Hot Tip"
Horse racing themed pinball for four players. Historically significant as one of the last electromechanical pinball machines William's ever made 29 years ago.
Plays faster then a brand new pinball machine. Tons of 1970's pinball action 6 drop targets, a captive ball feature , 2 ball saucers, a spinner, extra balls & specials , and scoring up to 999,990. Light the 3 horse shoes to light up the extra balls and specials. Mellow pinball sounds from the rebuilt chimebox. Super strong flipper action from the rebuilt flippers and pop bumper.
Nice all round original condition cabinet with some light touch ups to the cabinet nicely done. Beautiful condition playfield and backglass ready for your gameroom.
Pinrescue only works on pre 1977 pinball machines like this beautiful "Hot Tip" we don't do digital pinball or video games. As with all of our machines we offer long term service contracts local to Philadelphia Pa. and most of New Jersey. Not local, we have safely shipped all over the country. One of the last of it's kind, a fun super fast playing pinball machine.
Price $2195 (sorry sold Pitman NJ)
Questions pinrescue@comcast.net
Click to enlarge