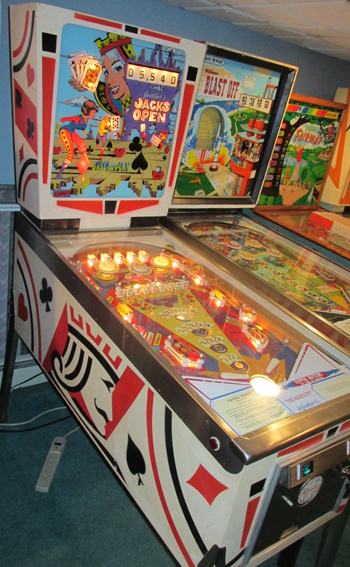 1977 Gottlieb's "Jacks Open" One of the very best card themed pinball machines ever made by any manufacture freshly restored by Pinrescue January 2015. Gottlieb's last single player (popular wedgehead cabinet) card themed electromechanical pinball machine.
During 1978 the year after Jacks Open was made pinball went digital, machines started talking and the world lost something special. Pinrescue has restored this Jacks Open with care for a long happy life in your game room. Gottlieb had a long tradition of single player card games like 1939 Gin Rummy, 1955 Easy Aces, 1957 Aces High, 1957 Royal Flush, 1960 Spot a Card, 1963 Sweet Hearts, 1965 Kings and Queens, 1967 King of Diamonds, 1969 Spin a Card, 1971 Flip a card, 1972 Drop a Card, 1974 Top Card culminating in the last of the line this 1977 Jacks Open, in Pinrescue opinion one of the best they ever made and the end of an era. In the year this gorgeous Jacks Open left the factory The NYC blackout of 1977 lasts for 25 hours, resulting in looting and other disorder. Very good chance this machine will not blackout as it has been carefully rebuilt (Jan 2015) and is the youngest we at Pinrescue restore.

Great resetting drop targets feature: make the Jacks and the drop targets reset and you need the Queens: make the Queens and you need a Full House, on up to the Royal Flush twice for a free game. Plus free games for high scores up to 199,990 and end of game match. Jacks Open is a true classic pinball machine.

Quality restored vintage pinball machines are a fun investment you and your family can enjoy every day. Muscle Cars from this era are bringing 6 figures when done right. Pinball machines may follow suit as the demand is booming (read Baby Boomers) and the supply of good working restored games is limited. Just where did the cool guys drive those Cuda's, Camaro's and Mustang's to back in 1970's? Straight to the local 7/11, Soda Shop, mall or bowling alley to play "Jacks Open". Doyle Brunson won the World Series of Poker "Main Event" beating out 33 other players in 1977. I guess poker has really boomed since then as this year's 2014 WSOP main event had over 6,000 entries!

Pinrescue only works on pre 1977 pinball machines like this nice "Jacks Open" we don't do digital pinball or video games. If you want a vintage pinball machine don't settle for a cosmetically challenged not restored eBay nightmare that may never ring a bell and you will hate.

Good condition original playfield, pretty good original art glass and beautiful original cabinet, nice condition Jacks Open freshly restored (January 2015) all new: flippers, pop bumpers, posts, cabinet buttons, rubber, lamps, locks, legs, casters, hardware and brand new playfield glass. Good quality pinball machine and one of the best titles Clean as can be inside and out. Game play like you remember from 1977 now in your home for playing every day.

Great playing mechanically restored dependable pinball machine from Gottlieb 1977 Jacks Open one of the best ever.
Long term service contracts local to the greater NYC to Washington DC area installed in your home with one year warrantee $250. Not local shipping runs $500 inside fully insured ready to plug in and play.
Price $3500 sold Nashville TN Questions: pinrescue@comcast.net or call russ 215 354 0906