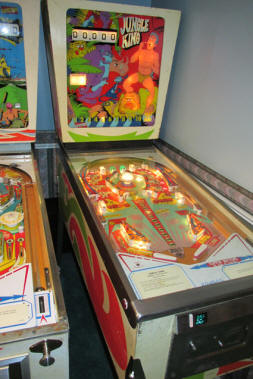 1973 Gottlieb's "Jungle King" Super low production 825 manufactured 43 long years ago how many can be left? Restored early May 2016 and ready to play.
Jungle King is the rare add-a-ball single player version of the wildly popular "Jungle" and Wild Life" http://www.pinrescue.com/games/wild_life.html which is long gone. These addaball pinball machines are coveted by pinball collectors for their rarity and the fact that you can play extra long games at home by winning many free balls or WOW's they were made exclusively for New York state and Wisconsin. States that outlawed the winning of free games as gambling so the manufactures created add-a-balls to circumvent that stupid law.
Fun Features on 1973 Jungle King:
10 brand new Star Rollovers lights WOW"S

Ball Return Gate

Ball Kickback Gate

Double Bonus skill shot

Captive Center Pop Bumper (brand new)

Win up to ten free balls
All these great features make for long playing games.
This Jungle King is in very nice all round original condition and plays the same as in 1973 . Nice original cabinet and chrome, some very slight flaking on the sealed backglass and nice condition playfield.
Freshly restored for a long happy life in your game room early May 2016. Everyone at Pinrescue is working hard to get some machines listed on our webpage as we are selling them as soon as they are restored.
Pinrescue sells out of these 1970's Gottlieb's fast, hurry or someone else will be King of the Jungle.
Price $3250 Sold-Pensacola, FL Insured shipping anywhere in the USA $500 inside your home ready to plug in and play.
Any questions pinrescue@comcast.net