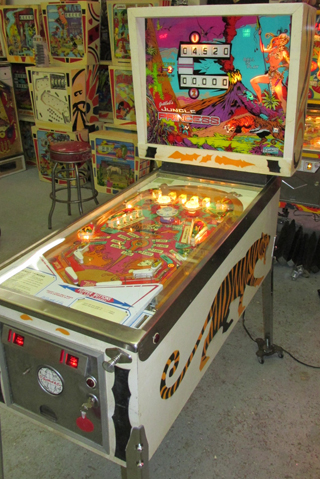 1977 Gottlieb's "Jungle Princess"
Two player, four flipper fun from the premier manufacture of this era of pinball machines Gottlieb. One of the last pinball machines before they went digital in 1978. Vivid graphics on Jungle Princess could work in any Game room, one of the most colorful machines ever made. Popular 10 drop targets, 3 pop bumpers, 2 kick out holes and four flippers for your pinball enjoyment. Every feature you could want in a late 1970's pinball machine 10 drop targets, extra balls, specials and 100,000 scoring for over the top action. Very good condition cabinet, nice playfield and back glass freshly restored (late December 2016 ) and plays like a dream come true.

Pinrescue has real trouble keeping nice late 1970's drop target pinball machines in this nicely restored condition in stock. Fine 1970's pinball features found on Jungle Princess:
10 monkey drop targets

3 new pop bumpers (really fast)

Nice mix of 2 regular and two small retro flippers all new

Win extra balls and specials

Countdown bonus after each ball

Double bonus when lit

100,000 scoring for over the top fun
The year Jungle Princess was in your local arcade the New York City blackout of 1977 lasts for 25 hours, resulting in looting and other disorder. Good chance Jungle Princess won't blackout as Pinrescue has carefully restored her for a long happy life in your home. Freshly restored end of December 2016.


Local set up and annual service contact for a small fee. Not local to us? We have safely shipped all over the USA (to over 40 states) and offer unlimited service/parts/help if ever needed. $500 fully insured shipping just about anywhere USA

Price $3250 sold Harvey Cedars NJ Questions? pinrescue@comcast.net or call 215 354 0906 Russ
Additional Photos - click to enlarge