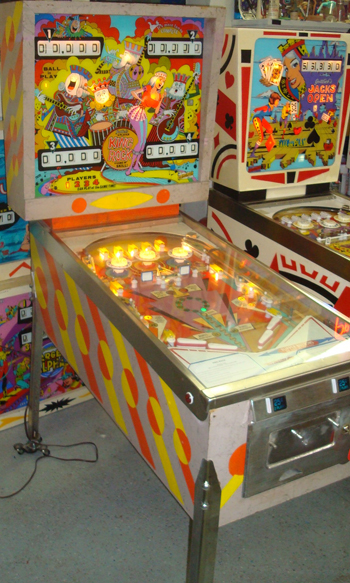 1972 Gottlieb's "King Rock" Rocking pinball from 1972 for 4 players freshly restored (Sept 2011) featuring four rebuilt flippers, two spinners, three rebuilt pop bumpers, specials when lit and a ball return gate for extra long play in your home. If King Kool or King Rock was your favorite pinball machine your ship may have come in. Back in 1972 on the top of the charts in the music scene were a real mix of music Don McLean's "American Pie", Mott the Hoople's "All the young Dudes" , America's " "A Horse with no name" topped the charts along with Sammy Davis Jr.'s "Candy Man" don't wait another 3 decades to get that restored vintage pinball machine they may all be gone.
Super popular Card/Music themed pinball with art work that matches some of Gottlieb's greatest titles like Royal Flush, Joker Poker, Top Card and Jacks Open. These poker/card themed machines sell as fast as Pinrescue can restore them.
Great all round cosmetic condition as follows very good back glass, very good playfield much better then average cabinet , Pinrescue can restore the cabinet and chrome to like new but it would add $2000 to the price and take 6 weeks minimum.
King Rock is a dependable pinball machine with the very popular card theme, a nice first machine or a good addition to an existing game room. Best investment in family fun you can make this year.
Quality restored vintage pinball machines are a fun investment you and your family can enjoy everyday. Muscle Cars from this era are bringing 6 figures when done right. Pinball machines may follow suit as the demand is booming (read Baby Boomers) and the supply of good working games is limited. Just where did the cool guys drive those Vet's, Camaro's and Mustangs to back in 1970's ? Many times to the local pinball hang out to play their favorite real pinball machine like King Rock.

Local to us Pinrescue proudly offers a long term service contract not local unlimited phone/parts/email support. We have safely shipped to over 3/4 of the states in the USA we would love to ship "King Rock" to yours. Inside your home ready to play shipping runs $400 less if you are anywhere near NYC to Washington DC.

Price $2895 (sold Fredericksburg MD) questions? 215 354 0906 russ or email us pinrescue@comcast.net