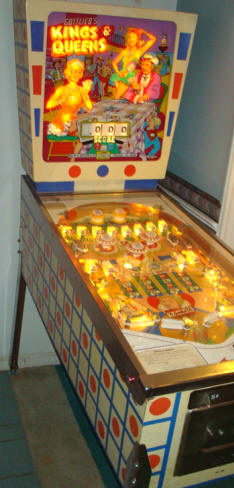 1965 Gottlieb's legendardy "Kings and Queens" Rodger Daltry played a Kings and Queens and Elton John played a Buckaroo in the 1975 movie Tommy. Freshly restored September 2012 and ready for your gameroom. Pinrescue has been hard at work all summer getting some vintage machines ready for sale. Very nice original cabinet brand new perfect art glass and a very nice playfield it plays like 1965 all over again. Brand new flippers and pop bumpers great strong playing Kings and Queens.
Pinrescue has restored several of these over the years but this is the first one we have been able to list on our webpage for sale. Don't wait or this classic will be on it's way to someone else.
Cool features found on Kings and Queens:
· 4 kick outs march the ball cross the playfield and down to the flippers
· Each kick out can be lit for a Special
· 4 Clubs randomly light center Special
· 3 brand new pop bumpers
· 2 completely rebuilt flipper
· End of game match
In the world of music circa 1965 Petula Clark dethrones the Beatle's at number 1 with her smash hit "Downtown" First female singer to hit number one during the Beatles era.
Kings and Queens is a great playing classic.
Price $3750 – (Sold Garwood, NJ) shipping runs $400 inside your home fully insured
Click to enlarge