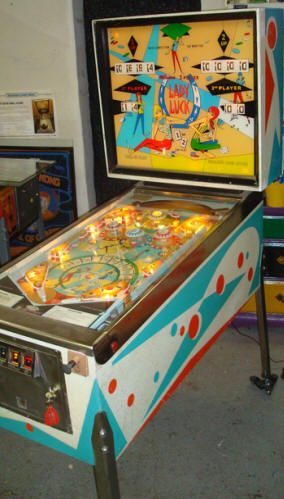 1968 William's "Lady Luck" Two Player Card Themed pinball machine freshly restored (March 2011) ready for your game/card room. Lots of fun 1960's pinball action as you try to beat the dealer in"21" after you lose each ball a random dealer hand lights up beat the dealer and win a free ball. Great art work in a mod/deco 1960's style. Great condition all the way around for a 43 year old machine. Very nice playfield , art glass and a clean nice looking cabinet with some well done touch ups here and there.
Fine features found on lady luck:
captive bumper increases hand value

2 kick outs score card value

2 jokers light 100 point pop bumper

bust your hand opens ball gate

2 rebuilt flippers
Songs you might have been listing to when Lady Luck was "new" in 1968.
Hey Jude was number one Harper Valley PTA and the theme from The Good the Bad and the Ugly made the top ten.
Don't wait or it may be a long time before Pinrescue finds, ships in and restores another very good chance it will not be in as nice all round condition as this one. Local to NYC, Philadelphia and Washington Dc we offer long term service contracts and delivery and set up for a small fee. Not local to us we have safely shipped to over 40 of the 50 states $400 inside insured ready to plug in and play.
Price $2495 Questions? pinrescue@comcast.net or call 215 354 0906 russ