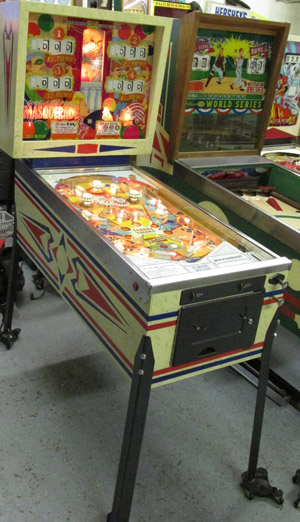 1966 Gottlieb's "Masquerade" 4 player animated family friendly pinball fun. Freshly restored September 2013 in beautiful cosmetic condition this is the only Masquerade Pinrescue has had the pleasure of restoring. Fun involved game play as you spell out Masked on the unique trigger bumper to multiply scoring by ten times then spell Beauty to multiply scoring by one hundred times! Masquerade also features a unusual under playfield roto target that changes the value of the 5 large bullseye targets. So you can have the same target worth from one point to five hundred big points. Great vintage pinball fun for the whole family.
In January of 1966 the first SR-71 Blackbird took off from Beale AFB and Masquerades were placed on locations earning nickels dimes and quarters in your local hangout. American made Gottlieb pinball machines have a quality of construction materials and engineering that the German's the Chinese or anyone else in the world just can't touch.
Feature rich pinball from 1966:
Animated cute girl uncovers her face (fan lowers as you play)

Under playfield roto target changes points values

4 rebuilt flippers for top to bottom pinball action.

Extra balls awarded for star target hits.

Replays for high scores and end of game match.

Real bells and real pinball fun
Pinrescue has trouble keeping up with the demand for quality restore vintage pinball machines. Top notch examples like this 1966 Masquerade are hard to find in any condition then add in our 50 plus hours of labor and tons of new parts and you can see why few of these classics ever come up for sale in this condition.
We have safely shipped all over $450 inside insured in the USA. Local to NYC to Washington DC inside install and one year warrantee $250.
Price $3500 questions? pinrescue@comcast.net or call Russ 215 354 0906
Click to enlarge