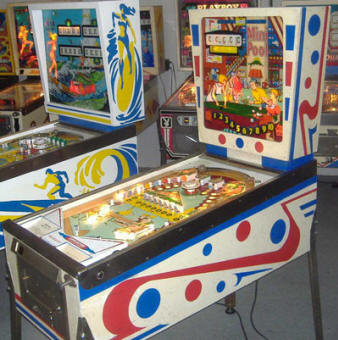 1969 Gottlieb's "Mini Pool" Rare pool/billiards themed pinball machine less then 500 made way back in 1969 how many can be left? Popular pool theme add a ball machine made for NY and Wisconsin states that outlawed replay pinball machines as a form of gambling. Fun game play as you win free balls
("WOW's") instead of free games many pinball collectors covet addaball machines for their rarity and the long play at home with all the extra balls. Pinrescue cannot keep billiard themed machines in stock they always sell fast. This is the only Mini Pool we have had the pleasure of restoring and when it is sold it may be a long time before we get another. Chances are that it will not be in the really nice condition this one is in as follows:
Super original playfield really nice, good cabinet and backglass with few issues Mini Pool is a good looking pinball machine that would complement any gameroom. Game play is same as 1969 with great action. Would look good next to the more modern Eight ball Deluxe or the older Bank a Ball pinball machines.
Local to us a long term service contract is available on Mini Pool not local we offer unlimited phone/parts support the best pinball machine is no fun at all if it doesn't work.
Price $2395
Questions pinrescue@comcast.net
Click to enlarge