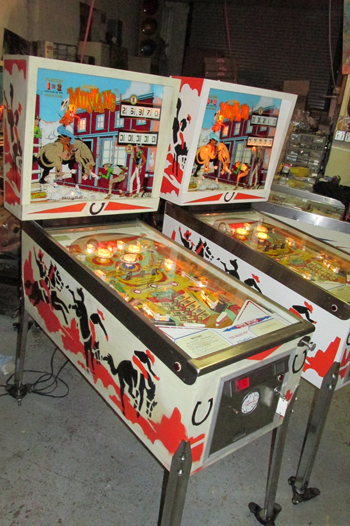 Gottlieb's 1977 "Mustang" Western Themed Pinball for Two Players very, very popular late 1970ís drop target game. Mustang was the last western themed multiplayer EM pinball machine ever made by Gottlieb. Freshly restored March 2017 it will sell fast. Pinrescue has real trouble keeping fully restored Western Themed pinball machines in stock most sell as soon as we list them.
Pinrescue has two Mustangs ready to ship March 2017 both meticulously mechanically restored this 2nd Mustang has a good original cabinet ok looking art glass with lots of nicely done touch ups very good original playfield. It is what we call a players machine plays like new but looks its age.
Mustang was the end of a long successful run of western themed electromechanical pinball machines from Gottlieb. Beginning in 1941 with "Texas Mustang" and ending in 1977 with "Mustang"! Mustang along with other great Gottlieb machines like El Dorado , Bonanza, Quick Draw , Buckaroo , Big Brave, Corral, Texan, Wild Wild West, Wagon Train, Sunset, Oklahoma and Straight Shooter somehow blended pinball with the wild west. Any of these classics would look great next to this retro "end of an era" 1977 Mustang.

Way cool 70's pinball action as the ball kicks up into kicker holes that kick the ball back down to the flippers. Just like a bucking Mustang. All the features you remember in 1970ís pinball extra balls, Specials, count down bonus and drop targets. Other nice Features found on Mustang:
Up to 60,000 points exciting 4 times countdown bonus on last ball.

Double Bonus on any ball by making A B C

Win extra balls after dropping the 3 horses (for extra long play at home).

Win games for High Scores, Specials and End of game match
This Mustang is as clean as a pinball machine can be and a ton of fun to play. Pinrescue has been hard at work restoring these extremely popular "Western Themed" pinball machines. Most sell before we can list them on our website. We always sell out before the Christmas season. If you have always wanted a vintage Pinball machine maybe this Mustang is for you. Plays like it just came right out of the factory same as new. Mechanically restored with care (completed March 2017) for a long happy life in your game room.
Gottlieb vintage pinball machines had a quality of build that the Germans and Japanese would envy. This nearly 40 year old machine looks fresh and plays just like new.
This 40 year old pinball machine has an average condition backglass lots of touch ups, nice playfield and good original cabinet. Our lowest priced machine BECAUSE OF THE ONLY AVERAGE COSMETIC CONDITION. We here at Pinrescue really do strip down the playfields and rebuild them on all our machines for sale not just say we do see pictures below. Clean as can be inside and out. In 1977 when Mustang came out of the Gottlieb factory Apple computer company was incorporated! Don't wait another 30 years for a vintage pinball machine they may all be gone.
Pinrescue's most popular collectable theme (We sell Western Themed, Sports Themed and Billiard Themed pinball machines very soon after we list them). We have safely shipped all over the world and to over 45 of the 50 States.
Shipping runs $500 just about anywhere USA less if you live in the North East.
Mustang will bring back fond memories every time you play and make new memories for your family and friends.
Price $2750 sold Portage PA questions? pinrescue@comcast.net
Click to enlarge