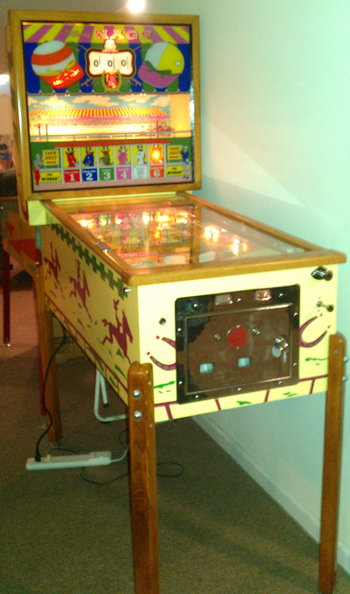 1960 William's "Nags" Single player classic pinball machine with animation on the playfield and back box. Fun filled playfield turntable with six new pop bumpers that advance your horse to the finish line.
Freshly restored June 2011 the way you would do it if you had the time, ability, parts and a world class Nags to start. Near flawless playfield and art glass completely restored cabinet and chrome. Nags could be the gem in your pinball collection or would look great in your horse trophy/tack room. Cute "hosses" with names like stinky and flippy.
During 1960 when this like new Nags was really new Kelso was named horse of the year. He ranks 4th all time behind Man O War, Secretariat and Citation.
Funtastic feature found on Nags:
Selected horse wins on 1st ball awards 5 replays
Selected horse wins on 2nd ball awards 4 replays
Selected horse wins on 3rd ball awards 3 replays
Selected horse wins on 4th ball awards 2 replays
Selected horse wins on 5th ball awards 1 replay
Lit bumper on turntable advances horses
Two rebuilt flippers
Horses move to the finish line
One of the last woodrail machine ever made
Pinrescue has safely shipped all over the world inside your home fully insured shipping runs $400 for installation anywhere in the lower 48 states.

Top quality has it's price
Price $6,500 (sold Cherry Hill NJ)


Pinrescue, Inc.
215-354-0906
1340 Buck Road
Feasterville, PA 19053
Click to enlarge