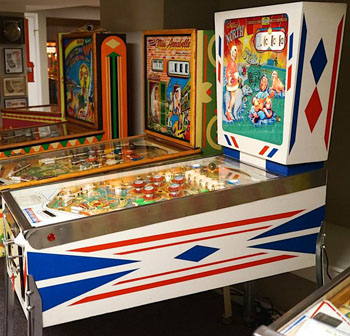 1964 Gottlieb's "North Star" Wonderful single player pinball machine. One of the highest rated machines from Gottlieb for game play. So many ways to win Specials, light the 5 pop bumpers by making all 5 top lanes. Light the kick out hole Specials by making green and yellow lanes any of which will randomly light the center star rollover button for a Special. Make all the rollovers to light the rollover Special then every lane awards a free game.
The style of game play that will always make you want to play another game. Freshly restored by Pinrescue (late June 2015) with all new plastic lane guides, pop bumpers, flippers, flipper buttons, playfield glass, new shooter beehive, shooter rod, shooter springs, new legs, bolts, locks, coin door, coin entry. Freshly repainted cabinet which could work in any room in your home. Beautiful original playfield and art glass. Just the way you would do it if you had the time, ability and a beautiful 1964 North Star to start with. Some of the TV shows that premiered in 1964 when this like new North Star was "new": "Gilligan's Island", "Johnny Quest", "The Man from UNCLE", "Voyage to the Bottom of the Sea" and "Flipper". Don't wait another 45 years for a restored vintage pinball machine they may all be gone. Lots of detailed pictures below of "North Star" my webmaster will want to kill me so I'll give him a plug
http://greggsmith.com
he does great work for us.
Pinrescue loves North Star and so will you and yours. Your home will become the place to be, the envy of your friends and neighbors. Most of these mid 1960's game were played to the bare wood earning your dimes and nickels and playing a nicely restored one is a real pleasure like taking a trip back in time. Dad, this might be the only game in your game room that you can beat the kids playing.
Pinrescue has safely shipped to over 40 states
Price $5000 sold State College PA installed just about anywhere in the USA $4750 installed and warrantee in the Greater NYC to Washington DC area. call 215.354.0906or pinrescue@comcast.net with any questionslick to enlarge