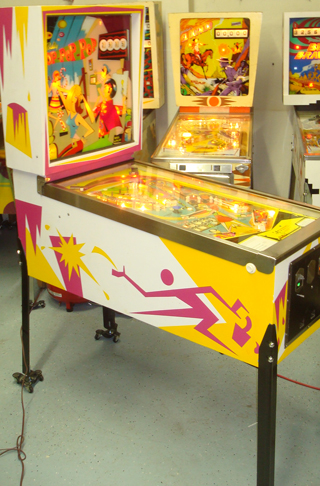 1968 Bally's "Op Pop Pop" Single player Artist/Hippie themed pinball machine. Fully restored (early May 2013) a pun on Jackson Pollock modern "Drip Art". Love it or hate it art work Pinrescue liked it enough to spend over 100 hours in the restoration. The year Op Pop Pop rolled out of the Chicago factory some of the top movies were Rosemary's Baby, Bullit and The Love Bug don't wait another 30 years to get that pinball machine you have always wanted. We have real trouble keeping nicely restore vintage pinball machines on our webpage, quality machines like this Op Pop Pop find a happy home quickly!
Early Zipper Flipper game when you hit the mushroom bumper the flippers snap together rebuilt with all new parts and it works great.
10 rollover buttons (5 100 point and 5 10 point)

5 Mushroom bumpers

1 "paint brush" bonus hole score up to 500 points

10 point to 500 points side lane bonus

Win same player shoots again for longer games in your home

Win credits for high scores and end of game match
Very nice all round condition 45 year old pinball machine before we restored it May 2013, Great original art glass and playfield faithfully restored cabinet it looks great.
Pinrescue has shipped all over we can get this Op Pop Pop installed in your home on legs ready to plug in and play vintage pre 1977 pinball is all we do. This cute machine could work in your game room.
Price $5000 -Sold-Spokane Valley, WA installed in your home.
Questions ? pinrescue@comcast.net
Click to enlarge