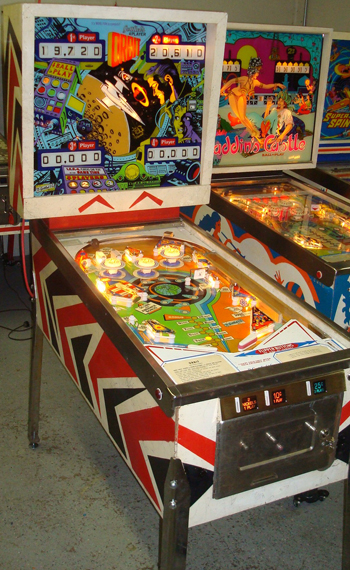 1972 Gottlieb's "Orbit" Great four player game. Like all our machines for sale mechanically restored just completed Feb 2011. Nice all round condition as follows near mint art glass very nice playfield correctly shopped out with new posts, rubber, lamps, pop bumpers, flippers, cabinet buttons, coin entries, shooter, legs , locks on and on. OK looking cabinet with touch ups here and there. Pinrescue can restore the cabinet but it will almost double the price see this link for a similar game we restored the cabinet on a few years ago. http://pinrescue.com/games/outerspace.html
Nice to look at and a joy to play one of the highest rated pinball machines on the internet data base with good reason. Click here to see a short video of our shop and some other Gottlieb pinball machines we have sold in the past. http://pinrescue.com/games/video/abbra/abra.wmv
Outstanding features found on Orbit:
Two ball return gates one rare roll under at the top right of the playfield which is always open and the more common return to shooter gate on the right drain.
Three rebuilt Pop bumpers
Varitarget for bonus or Special but only with a perfect shot
Countdown Bonus after every ball
Double Bonus on last ball
Orbit could work in any nice game room and would look great in any home on the Space Coast in Florida.
Quality restored vintage pinball machines are a fun investment you and your family can enjoy everyday. Muscle Cars from this era are bringing 6 figures when done right. Pinball machines may follow suit as the demand is booming (read Baby Boomers) and the supply of good working games is limited. Just where did the cool guys drive those Cudas, Camaros and Mustangs to back in 1972? Straight to the local 7/11, Soda Shoppe, mall or bowling alley to play "Orbit".
Pinrescue only works on pre 1977 pinball machines like this fun "Orbit" we don't do digital pinball or video games.. If you want a vintage pinball machine don't settle for a cosmetically challenged unrestored eBay nightmare that may never ring a bell and you will hate.
As with all of our machines we offer long term service contracts local to Philadelphia Pa. and most of New Jersey. Not local, we have safely shipped all over the country and offer unlimited parts and help if ever needed.

Price $2895 (SoldWashington, CT) Questions? pinrescue@comcast.net or russ 215 354 0906