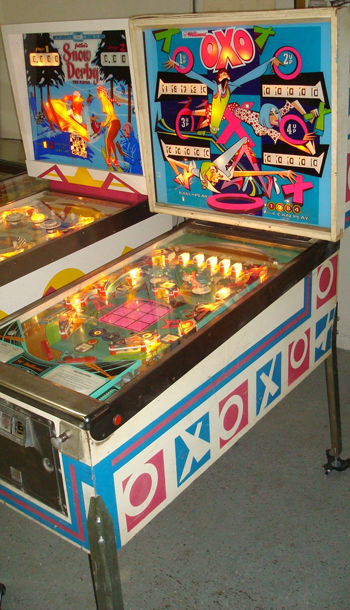 1973 William's "OXO" 4 Player very Groovy tic tac toe themed pinball machine. Tons of fast action from William's in a mid 1970's pinball machine that looks like Austin Powers meets Andy Warhol. Colorful addition to any hip gameroom. One of William's best in the mid 70's. Speaking of the 1970's when this nice playing OXO was new, the bands KISS, Journey and AC/DC were
formed. Mechanically restored (Jan 2010) "OXO" is cosmetically in good condition with few issues as follows :
Good original cabinet with a few scuffs. Nice playfield with a flipper drag mark (Pinrescue rebuilt the flippers and new bearings solved that problem) we can touch it up or not. So so backglass with some spidering here and there
Game play is fast and unpredictable making a tic-tac-toe is harder then it
looks as the X or O award lanes change from O to X every ten points.
Unique features found on "OXO" :
Tic-tac-toe board lights up X's or O's magically in the center of the
playfield.

Ball return to shooter gate.

Extra Balls & Specials light for making tic-tac-toes

Three super fast rebuilt pop bumpers

Two kick out holes.

End of game Match.
Feature packed game for 4 players with love it or hate it neon pink
graphics! Pinrescue has trouble keeping nicely restored 1970's machines in
stock. Must be more baby boomers around looking for nicely restored vintage
pinball machines then there are machines ready to play for sale. We have
safely shipped to over half the 50 States insured inside delivery runs $400

Price $1995 (sold Klamath Falls, OR)
call 215.354.0906 or pinrescue@comcast.net with any questions
Click to enlarge