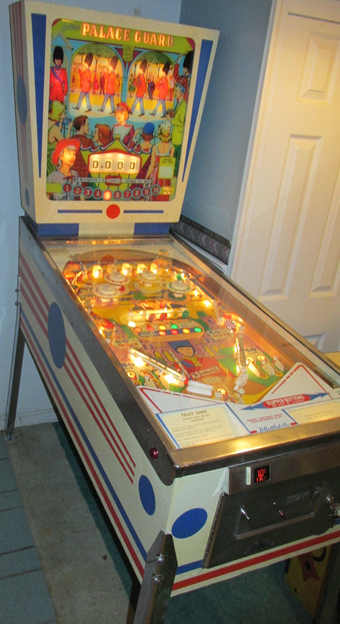 1968 Gottlieb's beautiful "Palace Guard" great snap target game the 4 colored targets snap back and forth and make a marching sound as they move. Rare Add a Ball version of the super popular Royal Guard win extra balls for long play at home. Low production machine only 625 made way back in 1968. One fifth the production run of Royal Guard the replay version. Very hip 1960's British Themed pinball. During 1968 when Palace Guard was new "The Beatles" founded Apple Records shortly thereafter launched the "White Album". Please enjoy the video of this Palace Guard playing taken late October 2014.
Mechanically restored with new legs, all new plastic posts, all new flippers and pop bumper parts, mint reproduction backglass, new playfield glass on and on.... It plays like new and would look great in your home. Pinrescue likes the snap targets, which each one made lights a target or pop bumper for higher scores. Four pop bumpers and the sounds of three different size bells with the march of the snap targets makes for great pinball fun.
One of the few investments you can play and enjoy every day if you always wanted a vintage pinball machine this Palace Guard may be what you have been waiting for. We offer unlimited parts/email/phone support and have safely shipped all over. Local to us from NYC to Washington DC area we offer delivery and set up with an annual service contract for $250.
Forty six years old but this Palace Guard plays like it just came out of the factory! Pinrescue has real trouble keeping quality restored machines in stock we sell out every Christmas season. Don't wait or this classic from
1968 will be on its way to some other happy home. Pinrescue has safely shipped all over $500 inside your home ready to play .
Price $4000 – Sold-McCuthenville, OH shipping runs $500 anywhere in the lower 48 less if you live anywhere near NYC to Washington DC
Any questions pinrescue@comcast.net 215.354.0906 Pinrescue has safely shipped to over 40 of the 50 states
Click to enlarge