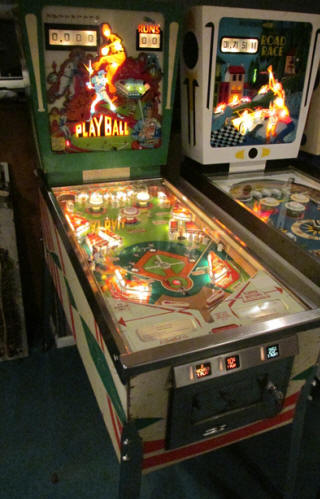 1971 Gottlieb's "Play Ball" desirable single player baseball themed pinball. Gottlieb's first machine to use the now common large 3" flipper bats. Popular wedgehead cabinet design used by Gottlieb from 1960 thru 1978. During 1971 while playing machines like Play Ball you may have listened to "Joy to the World" by Three Dog Night on your 8 track which spent some time at the top of the charts that year. Play Ball will bring much Joy to you and your family and friends as Pinrescue rebuilt just about everything on it. Freshly rebuilt December 2014 ready for your sports themed game room.
All new flippers, pop bumpers, rubber, lamps, posts, new playfield glass, new legs on and on and as clean as can be inside and out. OK condition original cabinet with some wear and tear here and there, good original art glass and an excellent playfield.
Good all round original cosmetics rebuilt mechanically (Dec. 2014) and plays like it was made yesterday instead of 43 long years ago. Nice baseball graphics everywhere you look fast and fun. Play Ball features a chime box for 1970's pinball sounds and a retro 6 inch bell which gongs on every run you score. Two vari targets which score higher the harder you hit them. Two ten point bumpers and one hundred point bumper (which only lights when men are on second and third).

Four Star rollovers which light up to show men on base Win replays for high scores or Runs scored End of game match awards one replay. Play Ball would look great next to Gottlieb's later Pro Football, Big Hit, Baseball, Grand Slam and World series none of which we can keep in stock. Perfect for a sports themed game room.


One of our lower priced machines because of the average condition cabinet Pinrescue can restore the cabinet but it will add $2000 and 8 weeks before it will be ready to ship.

Price $2750 -sold-Richmond, VAQuestions? pinrescue@comcast.net or call Russ at 215 354 0906