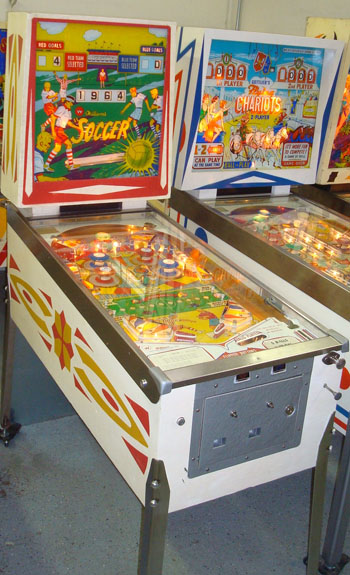 Classic Pinball Game for sale:
1964 William's "Soccer" Animated sports themed pinball machine from the mid 1960's. Soccer balls kick up and ring the bell and knocker with each goal scored! Hard single player machine to find "Soccer" has William's reverse wedgehead cabinet design. Would look great next to Gottlieb's 1975 Soccer.
During 1964 "Meet the Beatles" the first Beatle album in the USA, is released don't wait another 4 decades for a vintage pinball machine they may all be gone.
Neat game play on this classic from 1964:
Select red or blue team on first ball
Score 10 goals for a replay or win replays for high scores or specials
5 balls per play with ball manual push up
Animation unit in the head rings bell with a pinball for each goal scored
4 rebuild bumpers
2 rebuilt flippers
2 kick out holes score goals
1 kick up hole scores goals
End of game match.
Click on this link for a short movie of Pinrescue's shop and some other classic pinball machines from the 1970's. http://pinrescue.com/games/video/abbra/abra.wmv
Cute sports themed pinball machine in nicely restored condition (restoration completed (August 2015) very good playfield, glass and cabinet nice game with great gameplay.

Pinrescue has safely shipped to nearly every state $400 inside insured ready to play. Long term service contracts available local to us in the NYC to Washington DC area

Price $3250 -Sold-Ashburn, VA questions? Russ 215 354 0906 or pinrescue@comcast.net
click to enlarge