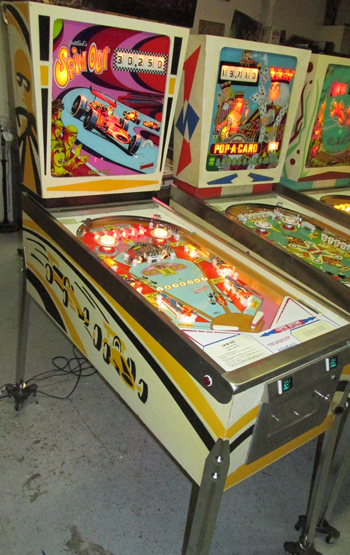 Wonderful Auto/Indy Car Racing themed Gottlieb Pinball machine. Pinrescue is proud to offer to you a beautiful 40 year old "Spin Out" we have restored many over the years but this is the only the 3rd one we have been able to list up for sale. Freshly restored mechanically end of November 2015 with all new: posts, rubber, lamps, flippers, pop bumpers, shooter, coin entry, legs, lock down bar, locks, levelers and bolts every feature works same as new.
In 1975 when you were playing machines like Spin Out the rock group Queen releases the album A Night at the Opera, including their hit single "Bohemian Rhapsody."
Spin Out is the 10th anniversary remake of the immensely popular 1965 Buckaroo same great features and game play as that great classic.
Spin Out is super popular with cool auto racing graphics and even better game play. Spin Out is a winner. Old school roto target game make all 7 numbers to win 4 replays, additional replays for high scores, specials and end of game match. Bring the memories of 1975 pinball fun into your home. If you played Spin Out back in the day your ship may have come in. Excellent condition all round with an excellent playfield with almost no wear , a very good original back glass and a bice looking original cabinet. Just restored November 2015.
Phone/email/parts support if not local to us. Locally (Greater Philadelphia Area/all of New Jersey) we proudly offer low cost set up with an annual renewable service contract. Great pinball machine for the car or pinball lover would look great in your garage or game room. If you always wanted a restored vintage pinball machine in your home what are you waiting for?
Shipping just about anywhere in the USA runs $500, if you are local to NYC to Washington DC less.

Price $3750 Questions? (sold Deerwood Mn) call russ at 215 354 0906 or email us pinrescue@comcast.net
Click to enlarge