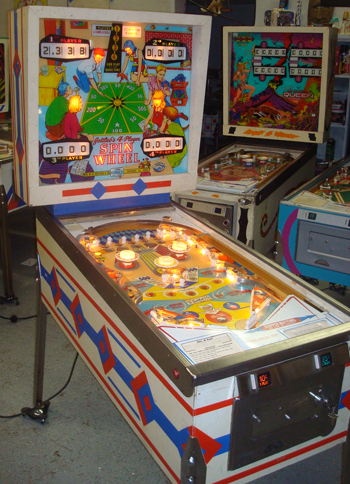 1968 Gottlieb's 4 player "Spin Wheel" Cute late 60's game with spinning light animation on the back glass. Kind of rare as Gottlieb didn't make a one or two player version of Spin Wheel. Great details on the backglass kids are playing a spin game (no they are not spinning the bottle but lots of
soda bottles around for later!) and cute homey details like a TV guide, the daily newspaper proclaiming "Good News Today" (folks this was in 1968 Nam, race riots.) 45 RPM record player and the spying little brother in the doorway. During 1968 the year this very nice Spin Wheel was made Mattel's Hot Wheels toy cars were introduced!
Fine Fun Features found on Spin Wheel:
5 kickout holes which light additional scoring features
Spin activates the gameboard on the backglass for big scores and a chance at
an extra ball
3 rebuilt pop bumpers (strong and snappy)
Make all 5 kickout holes to light the 500 points targets
5 old school rollover buttons
Last Gottlieb to use the classic round small flippers (both are brand new)
Pinrescue likes the 4 player fun and excellent cosmetic condition of this vintage "Spin Wheel". Very nice art glass, very nice playfield and very nice cabinet just the way we like them before we do our 30 hour mechanical rebuild (completed Dec 2008) Don't wait as Pinrescue cannot keep nicely restored classics like this nice Gottlieb in stock.
Price $2495 (sold Bellaire, TX) safe insured "white glove" shipping just about anywhere $400
Any questions pinrescue@comcast.net 215 493 266
Click to enlarge