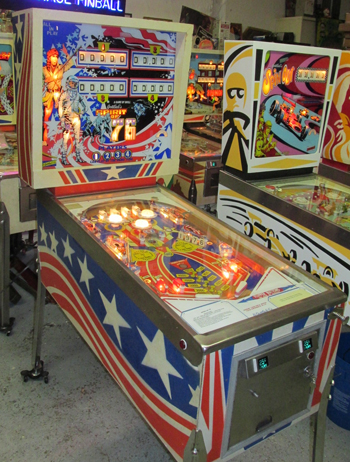 1975 Gottlieb 4 player "Spirit of 76" Patriotic pinball at its best! Family friendly fun our best seller year after year. This is Pinrescue' s 53rd Spirit of 76/ Pioneer we have restored in the last 20 years we have been doing only pre 1977 pinball full time. Freshly restored October 2015 and ready to play. Everyone at Pinrescue has been hard at work trying to get quality restored pinball machines up on our site. We sold out again last Christmas 2014 and Gottlieb drop target games never stay on our web page very long any time of year.
Pinrescue is very proud to offer one of the most desirable multiplayer pinball games ever created. Super popular sister to the two player Pioneer. We cannot keep these Pioneers/Spirit of 76's in stock. Fantastic pinball game play with extra balls, Specials and a countdown bonus of up to 60,000 and you can get it without losing the ball in play! Very good all round condition very nice playfield a very good original art glass (perfect reproduction glass if you prefer is available additional $350) and an excellent original cabinet. Great condition machine extremely popular title.
Pinrescue has installed all new flippers, pop bumpers, plastics, lamps, rubber , shooter , coin entries, cabinet buttons, legs, hardware, locks and all the posts (mechanical restoration completed October 2015) we really do strip down the playfield and rebuild the game not just say we do it (see pictures below). Game play just like you remember in 1975 for four players. Spirit of 76 would be perfect for your game room it is as clean as a pinball machine can be and like all of our machines for sale ready to ship.
http://pinrescue.com/games/video/abbra/abra.wmv follow this link to some other great Gottlieb games Pinrescue restored in the past.
Ready to play and enjoy freshly restored October 2015. If you have been looking for a vintage late 1970's pinball machine you will love playing this Spirit of 76. Pinrescue knows and loves Pioneer and Spirit of 76 and have restored dozens (our 53rd Spirit of 76) of them over the years. Please follow this link http://www.pinrescue.com/games/pioneer_spirit.html to see some of the Pioneers and Spirits of 76 we sold earlier and more info on this fantastic multi player game from the premier manufacture of electro mechanical pinball machines Gottlieb.
Our best seller year after year. We cannot keep these Pioneers/Spirit of 76's in stock. Some TV shows that premiered in 1976 when this Spirit of 76 was new were "Charlie's Angels" "Family Feud" and "The Bionic Woman". Spirit of 76 also appeared in the campy classic "Car Wash" it was in the waiting room go watch it! If you have always wanted a vintage classic pinball machine don't wait another 30 years or they all may be gone.
Shipping runs $500 inside insured ready to play just about anywhere in the USA less if you live anywhere near NYC to Washington DC.

Price $3500 or $3850 76 sold Beverly Hills CA
with new art glass installed, questions? Russ 215 354 0906 or pinrescue@comcast.net