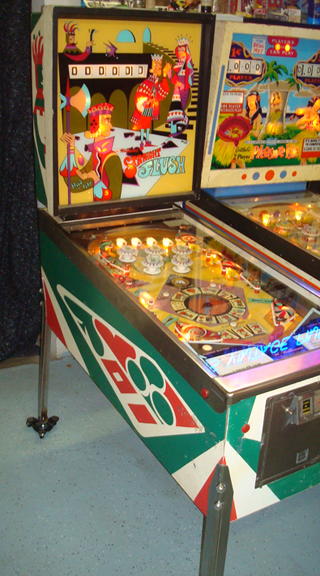 1970 William's "Straight Flush" is a card themed pinball machine you may remember from the early 70's. If you played this back in the day you know what a fun game it is. In 1970 the year Straight Flush was in the arcades Ford introduced the "new" Pinto. Dependable pinball action in a cosmetically nice pinball machine. Great condition playfield, fast five brand new pop bumper action with a way cool spinner in the playfield. Really clean and nice original cabinet pretty good original art glass with a few issues. Freshly restored mid December 2012 ready for your card/game room

Fun features found on Straight Flush:
Up Post between flippers.

Playfield spinner awards cards or jokers.

Make 3 jokers for extra balls.

Make straight flush for extra balls.

Make left lane specials for extra balls.

High scores awards replays or extra balls makes for long games at home.

Five brand new pop bumpers for super fast 1970's pinball action.
Art glass has a few minor issues but all in all a nice looking super fun player. Straight Flush is mechanically restored and plays like new in spite of it's 42 years. These card themed machines don't stay in stock long. Local customers can get our comprehensive annual service contract on Straight Flush if you are not local phone/parts/email support.

Price $2495 Questions? pinrescue@comcast.net or call 215 354 0906 russ
Click to enlarge