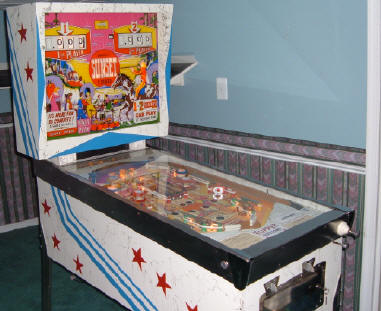 1962 Gottlieb's fabulous 2 player "Sunset" This "western themed" pinball machine features a boost-a-ball always lit special. Wonderful restored condition beautiful backglass, freshly restored cabinet and mint original playfield. These western themed pinball machines from Gottlieb are among the most collectable machines ever made. Pinrescue cannot keep machines like El Dorado , Quick Draw
http://www.pinrescue.com/games/quick_draw.html (which we may still have in stock) Buckaroo,
Bronco and Big Brave http://www.pinrescue.com/games/big_brave.html (if still in stock) always sell fast. We at pinrescue only work on pre 1978 pinball machines like "Sunset" we don't do video games or any digital pinball machines at all. This is our only business and we love what we do and it shows in our work.
Pinrescue proudly offers a renewable comprehensive service contract local to us in the Philadelphia area and all of New Jersey. Free set up and one year contract local free shipping and phone support if not in our area.
Price Sold (Look for Sunset in an upcoming TV commercial)
Questions pinrescue@comcast.net or 215.354.0906