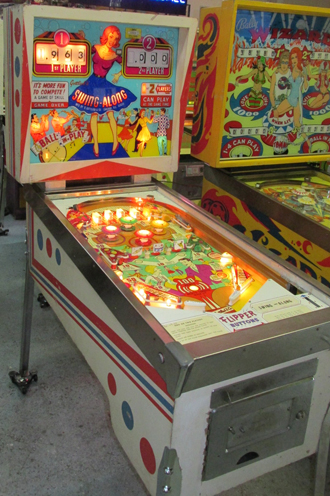 1963 Gottlieb's "Swing Along" cute music/dance themed machine for two players. First pinball machine ever to use a spinner target copied there after right up to todays 2017's pinball machines from Stern and Jersey Jack. Probably the best use of spinners in any Gottlieb game ever.
Freshly restored May 2017 this 54 year old machine plays like day one. This beautiful Swing Along features a nice original cabinet near mint original art glass and near mint original playfield. Exciting family friendly fun for two players.
Features:
3 Spinner Targets (a pinball first on Swing Along)

4 colorful Pop Bumpers

4 colorful Lollypop targets

9 rollover lanes

Replays for high scores and end of game match
54 years ago when this beautiful Swing Along was brand new you might have played one while waiting to see Alfred Hitchcock's new thriller "The Bird's" at your local theater. Time "flies" don't wait another decade to get that vintage pinball machine you have always wanted. Freshly restored May 2017 this is only the 3rd Swing Along Pinrescue has had the pleasure of restoring during the nearly three decades we have been doing pre 1977 pinball full time.
Price $4,000 Sold Phoenixville PA installed in your home ready to play.
Click to enlarge