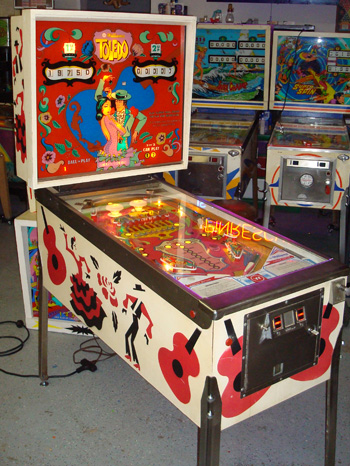 1975 William's "Toledo" Dance with the stars every night with Toledo fun pinball for two players.
Nice music/dancing themed family friendly pinball fun.
This very nice Toledo features:
Two sets of flippers and a nice mix of small and regular flippers Win extra balls for long play at home Win specials which will pop games or award extra ball Double bonus up to 38,000 at end of each ball Two ultra fast rebuilt pop bumpers The action and sounds like you remember in a restored 1970's pinball machine. Really nice cosmetics a near perfect backglass, beautiful playfield and a super nice cabinet make "Toledo" a nice addition to your pinball collection or a super first pinball machine. Very classy artwork on Toledo, a colorful addition to your game room.
Pinrescue has trouble keeping these restored 1970's pinball machines in stock. As with all of our machines listed it is ready to ship.
Wonderful original cosmetics and rebuilt for fast pinball fun.
Shipping runs $400 inside insured deliver most anywhere in the USA.

Price $2395 Sold to Virginia Beach
Questions? pinrescue@comcast.net
215 354 0906
Click to enlarge