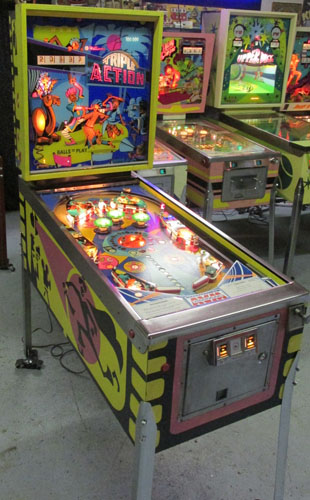 1974 William's "Triple Action" Fun filled single player from William's "Triple Action" would make a colorful addition to your families game room. Would look nice outside your home theater as Pinrescue likes the cheesy artwork of a movie in the making. Just freshly restored January 2014 it plays 100%. The cabinet is bright, and the art work is either love it or hate it. One of the better playing Williamís from the 70ís super fast playing machine.
Talking about movies in 1974 when this nice Triple Action was brand new Robert De Niro won best actor in Godfather II, don't wait another decade to get that pinball machine you always wanted.
Triple Action features:
Four drop targets,

Three ultra fast triple pop bumpers

Large spinner for up to triple bonus.

Win extra balls for super long play at home or replays or both.

Popular 100,000 scoring for over the top fun.
Triple Action is 41 years old but still has nice cosmetics all the way around with just a few touch ups on the cabinet a good looking art/back glass and good condition playfield all rebuilt. Plays as fast as a brand new pinball machine and every feature works correctly as it should. Pinrescue has real trouble keeping these 1970's drop target games in stock don't wait or it will be in someone else's game room.
http://pinrescue.com/games/video/abbra/abra.wmv click here for a short movie of our shop and other nice pinball games we had in the past.
These vintage pinball machines lived troubled lives in bars and bowling alleys this one has none of the earmarks of the typical vending abuse seen on a majority of these old survivors. Pinrescue doesn't bother putting our heroic and time consuming effort into restoring machines with worn out playfields, water damaged cabinets and worse. The bad ones become donor machines that will never play again. Triple Action has been rebuilt with care for a long happy life in your home. Local to us in the greater Philadelphia area and all of New Jersey we can deliver and setup for a small fee.

We have safely shipped all over the USA $400 inside ready to play and proudly offer long term service contracts local to us in the greater NYC to Washington DC area.
Price $2495 (sold Charlevoix, MI) Questions? pinrescue@comcast.net or 215.354.0906
Questions? pinrescue@comcast.net or 215.354.0906