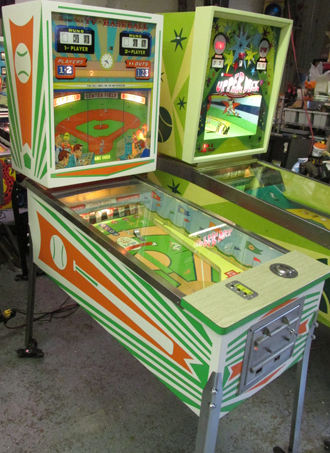 Baseball – 1966 "TV Baseball" Fun filled pitch and bat for two players with all the great baseball features you remember. TV Baseball features three different pitches: straight, curve and slider plus home run ramps and three upper decks.
Mechanically restored (April 2017) and ready to play in your game room. These time tested Pitch and Bats are a ton of fun to play.
Very nice cosmetic condition all the way around freshly restored to original cabinet. It has an unusual feature of two art glasses which gives a 3D effect. Ball players run the bases on the near mint condition art glass. Long play at home with a spell feature hit all base targets that cancel an out. Make all three upper decks for 20 big runs. Win free games (replays) for high scores.
The 1966 baseball season ended with Pinrescue's beloved Yankees finishing dead last the first time that they did that since 1912. Don't wait another 3 decades for a pitch and bat they may all be gone. Playing a vintage pinball machine or pitch and bat with your kids is more fun then any computer game. These American made machines have a build quality that the Germans and Japanese can't touch. Just restored April 2017 TV Baseball is ready to play.


Pinrescue has safely shipped all over the USA inside insured installation runs $500 on a first floor ready to play.

Price $5,000 Sold-Lewistown NY Questions:pinrescue@comcast.net or call Russ 215 354 0906
Click to enlarge