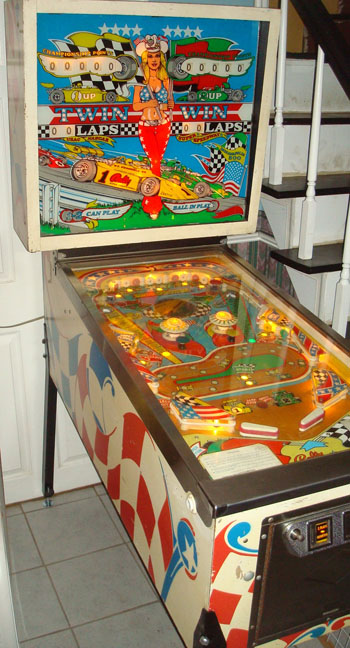 1974 Bally's "Twin Win" car racing themed pinball machine for 2 players. Lots of nice auto racing logos on the mint condition original art glass like Goodyear, Firestone, NASCAR, USAC, Super Speedway, Castrol, Ford and the Indianapolis 500.
Wonderful Checkered Flag girl in a red white and blue outfit and a 10 gallon cowgirl hat. Freshly mechanically restored (July 2010) and in very nice original cosmetic condition this Twin Win is ready to play. Perfect for your gameroom or garage.
Lots of nice Bally features found on Twin Win include:
4 rebuilt flippers
2 rebuilt pop bumpers
4 mushroom bumpers
Turbo-jet spinner in the center of the playfield spins the ball all over the playfield
Cars race around the playfield and the machine keeps track of each players laps
Ball lauches up between the flippers to start play
2 kickout holes scores big bonus
Extra balls light at certain laps
Specials light at certain laps
End of game match
All the popular features that makes vintage pinball machines from the mid 1970's so much fun. In the 1974 Indy 500 Johnny Rutherford's McLaren won and Pancho Carter was rookie of the year. Don't wait another 3 decades for a restored classic pinball machine they may all be gone.
Pinrescue offers long term service contracts on Twin Win local to NYC to Washington DC and we have safely shipped all over the USA (shipping runs $400 inside installed ready to play)

Price $2895 (sold Piney Hollow NJ) Questions ? pinrescue@comcast.net or call russ 215 354 0906
Click to enlarge