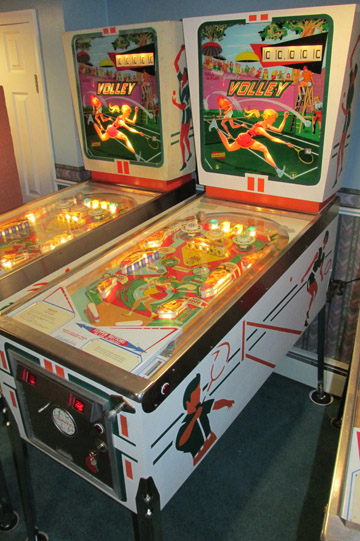 1976 Gottlieb's "Volley"
These sports themed single players from Gottlieb's sell as fast as we restore them. Excellent restored condition freshly rescued (early March 2017) for a long happy life in your game room. 15 Drop targets for your flipper shot pleasure. Tennis anyone? Pinrescue has just installed new flippers, pop bumpers, rubber, lamps, playfield glass, cabinet buttons, cabinet switches, legs, locks, lane guides and playfield posts on the original playfield. We restored the cabinet so it looks as fresh as the day it was made 40 long years ago. We take pride in our work and do it like you would want it done no short cuts. Fast playing game with lots of great skill shots with those 15 drop targets. Notable features three pop bumpers two special lanes and the resetting 15 drop targets. Volley also features 100,000 scoring for over the top pinball fun in your home.
Excellent original art glass and playfield restored cabinet (March 2017) this Volley plays great fast and fun. Wonderful drop target game from Gottlieb.
American Made when that phrase really meant something Gottlieb used the finest materials, craftsmen, engineers and artists all to earn your quarters back in the day. Chris Evert was all the news in 1976 when Volley left the factory winning both Wimbledon and the US Open.

We at Pinrescue only work on pre 1977 machines like this Volley freshly tuned March of 2017 for a long happy life in your game room. We have safely shipped all over if you have always wanted a vintage pinball machine maybe Volley is for you.
This is a collectable "Gottlieb Wedge head with Drop Targets" single player with a nice sports theme. It would be perfect for any lucky tennis club, shop or player.

We will warrantee this pinball machine locally (Boston to Richmond VA) and offer an annual service contract for a reasonable $225 per year. This contract includes all parts and labor, an annual tune up/inspection and clean & wax to keep Volley playing like new. Volley has been carefully restored that is the only reason we can offer a service contract (home use only) on a 40 year old pinball machine. Shipping $500 anywhere else.

Price $4500 Sold Kent WA pinrescue@comcast.net or call us 215 354 0906
Click to enlarge